Do you need to learn the most important tasks to set up a new Jira instance (Jira Software, Jira Core, or Jira Service Management)? In the Jira administration (part 1) course, you will get hands-on experience performing the administration tasks that are common to all three Jira applications.
Topics include a solid introduction to the following areas of Jira Administration: user management, global and project permissions, project roles, schemes, and the configuration of issue types, workflows, and screens. The course includes a variety of business use cases to assist you in understanding Jira administration, and best practices are emphasized for each topic.
We recommend you to also attend Jira administration (part 2).
After completing this course, you will be able to:
Configure system settings
Set up users and groups
Configure global permissions
Create and configure projects
Create issue types
Update workflows
Edit fields and screens
Configure project permissions and roles
Control access to your products
Prerequisites
Jira essentials training or equivalent experience using Jira
basic understanding of projects, issues, issue types, and workflow
basics of using the Jira applications you have: Jira Software, Jira Service Desk, and/or Jira Core
Certified training
Trainees will receive an official certificate of attendance upon completion.

Upcoming trainings
Online (EN)
22/02/2022
Book
Empower your entire team with new skills
Contact us to plan this training just for your team.
The course itself was a success from my perspective because it helped in reaching my goals: to get the specific knowledge needed to become a Jira Administrator for the internal environment in Nordea, and to understand the big picture and the implications of Jira architectural choices when designing a solution or project in JIRA.
Paul Mihai Stolniceanu
Global Analysis & Planning at Nordea
Read more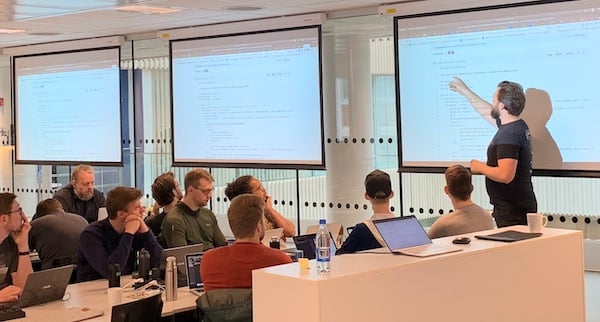 Related trainings
20220203
Next training: 02/02 - 03/02/2022 8:00AM CET
Location: Online (EN)
20220217
Next training: 17/02/2022 9:00AM CET
Location: Online (EN)
20220221
Next training: 21/02/2022 9:00AM CET
Location: Online (EN)
20220222
Next training: 22/02/2022 9:00AM CET
Location: Online (EN)
20220223
Next training: 23/02/2022 9:00AM CET
Location: Online (EN)
20220224
Next training: 24/02/2022 9:00AM CET
Location: Online (EN)
20220225
Next training: 25/02/2022 9:00AM CET
Location: Online (EN)
20220310
Next training: 10/03/2022 9:00AM CET
Location: Online (EN)
20220407
Next training: 07/04/2022 9:00AM CET
Location: Online (EN)
20220429
Next training: 29/04/2022 9:00AM CET
Location: Online (EN)