Explore more complex schemes, more advanced workflow configuration as well as board and sprint permissions.
This course continues the same case study from Jira administration (part 1) and goes deeper into the administration tasks covered in Part 1, focusing on Jira Software and Jira Core. It is structured around a case study where an organization creates a set of configurations and schemes to apply to new projects and existing in-progress projects. Real-world examples and best practices are emphasized.
After completing this course, you will be able to:
Ask stakeholders the right questions to extract the business requirements
Map business requirements to Jira configurations
Create issue types, fields, and screens to make it easy for your teams to get their work done
Customize workflows to match how your teams work
Configure who can manage sprints and administer boards
Create a set of standard schemes and configurations to use for new and existing projects
Establish Jira administration best practices
Prerequisites
Certified training
Trainees will receive an official certificate of attendance upon completion.

Upcoming trainings
Online (EN)
07/09/2022
Book
€
950
Price per participant
Empower your entire team with new skills
Contact us to plan this training just for your team.
The course itself was a success from my perspective because it helped in reaching my goals: to get the specific knowledge needed to become a Jira Administrator for the internal environment in Nordea, and to understand the big picture and the implications of Jira architectural choices when designing a solution or project in JIRA.
Paul Mihai Stolniceanu
Global Analysis & Planning at Nordea
Read more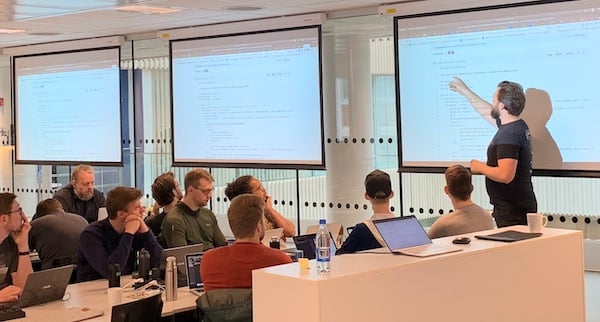 Related trainings
20220905
Next training: 05/09/2022 9:00AM CET
Location: Online (EN)
20220906
Next training: 06/09/2022 9:00AM CET
Location: Online (EN)
20220907
Next training: 07/09/2022 9:00AM CET
Location: Online (EN)
20220908
Next training: 08/09/2022 9:00AM CET
Location: Online (EN)
20220909
Next training: 09/09/2022 9:00AM CET
Location: Online (EN)