Eficode was visiting the Red Hat Summit which was held in Boston, May 2-4. What was it about, what was learned and how was the overall experience? Take a look!
My name is Niklas Tanskanen and I work as a consultant here at Eficode. I'm currently working on a very interesting project at our customer which utilizes latest cloud technologies delivered by Red Hat. Recently I attended Red Hat Summit held in Boston and these are my findings about the event. I'm writing this in cold, rainy Helsinki and keep wondering, what I've learned from my trip.
First day of the trip was about attending OpenShift Commons which is a community of users, customers and contributors coming together to work on Openshift. I learned a lot about the state of Openshift development and honest customers stories. There are many intresting things on the next version releases which I already have a plan on how to utilize them.

On Tuesday the actual Summit began. I had some doubts first about if this was a right place for me, since I mostly enjoy working hands-on and not that much with theory or abstract things. Seeing concrete things is something I enjoy when working with technology. Well, I knew I was in the right place when things got technical in the very first keynote. Red Hat kept an intresting demo on how their tools is helping to break monoliths into microservices which is exactly what the world and our customers are doing at the moment. I noticed similarities with the themes of this summit and DEVOPS 2017 which Eficode arranged a few weeks ago - microservices, containers, agile methods, devops etc.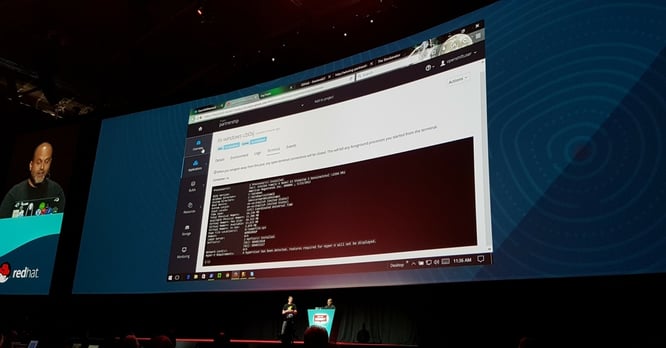 On Wednesday Red Hat took everyone to see baseball at Fenway Park. Surely an authentic American experience and I learned that it's not so much about the game but hanging around in baseball park with friends, eating hot dogs, drinking beer and casually watching the game.

On the last day of the Summit, Microsoft surely dropped a bomb when they announced Windows docker nodes for Openshift and even kept demo where they ran SQL Server® and IIS® on top of Openshift. I'm interested to learn more about how Windows actually performs in a container world where everything is under constant change.

So what did I learn? I think the bottom line is that Summits are more about people and less about breakout sessions, keynotes or partner demos. You get to meet brilliant people from all around the world, share your experiences with open source technologies and network with professionals working with same technical challenges as yourself.

Overall the trip to Boston was a fantastic experience and something I might look forward in 2018 - maybe even impact the world by presenting my own breakout session? By the way, how do you plan to impact the world around you? I can recommend one way: Join us.