Recently, a bunch of great new features for Eficode ROOT tools have been introduced. In this blog, the team will walk you through the changes and introduce how they've enhanced the Eficode ROOT user experience.
What's new in Confluence?
You can check out the Atlassian Confluence 6.14 release notes here for full details, but here is our recap of the most important changes.
Improved Confluence search function
Atlassian has introduced a much improved search experience in Confluence 6.14.
Compared to the previous quick navigation feature, which restricted your search to names of pages, files, spaces, or users and only displayed a limited set of results for your search, the new improved version replacing old quick navigation now offers an expanded search view displaying ever more accurate search results.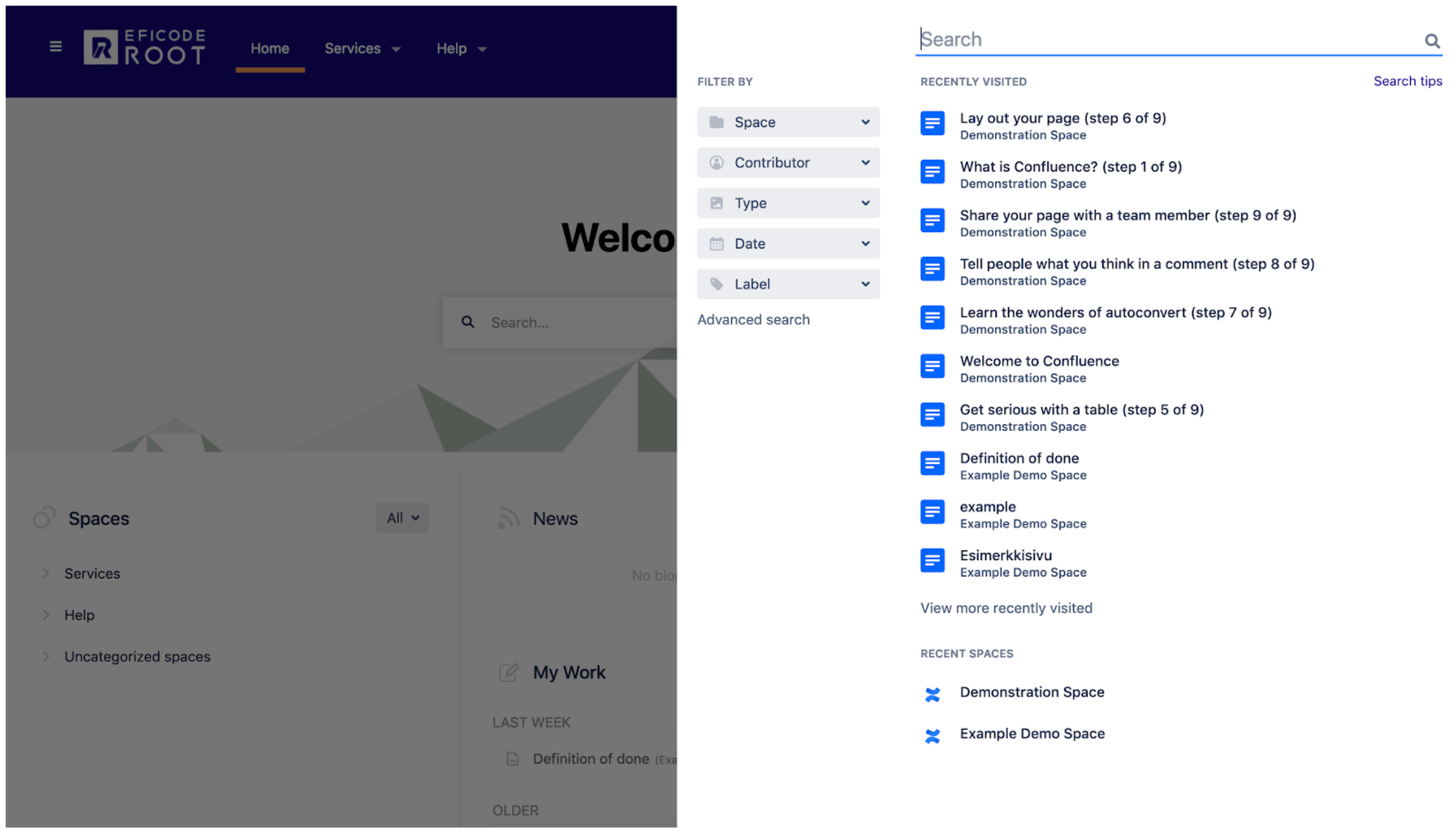 As you type in your search parameters, Confluence now performs a full search of your site content. With the new interactive search filters, you can easily narrow down your results in a few clicks. You can still use the existing Confluence search syntax, like wildcards and other operators, for more precise search queries.
See the updated Confluence search guide at atlassian.com for a full overview.
Editor improvements
Atlassian has made a huge number of improvements to the upgraded Confluence editor, including solving common frustrations relating to table cells, bullet points, and cursor behavior, especially when copy pasting content. The look of the editor hasn't changed as the improvements are all under the hood.
More ways to edit files
The previous Confluence release 6.11 introduced an easier way to update attached files, allowing you to edit the file in its native desktop application, then seamlessly save the changes back to Confluence.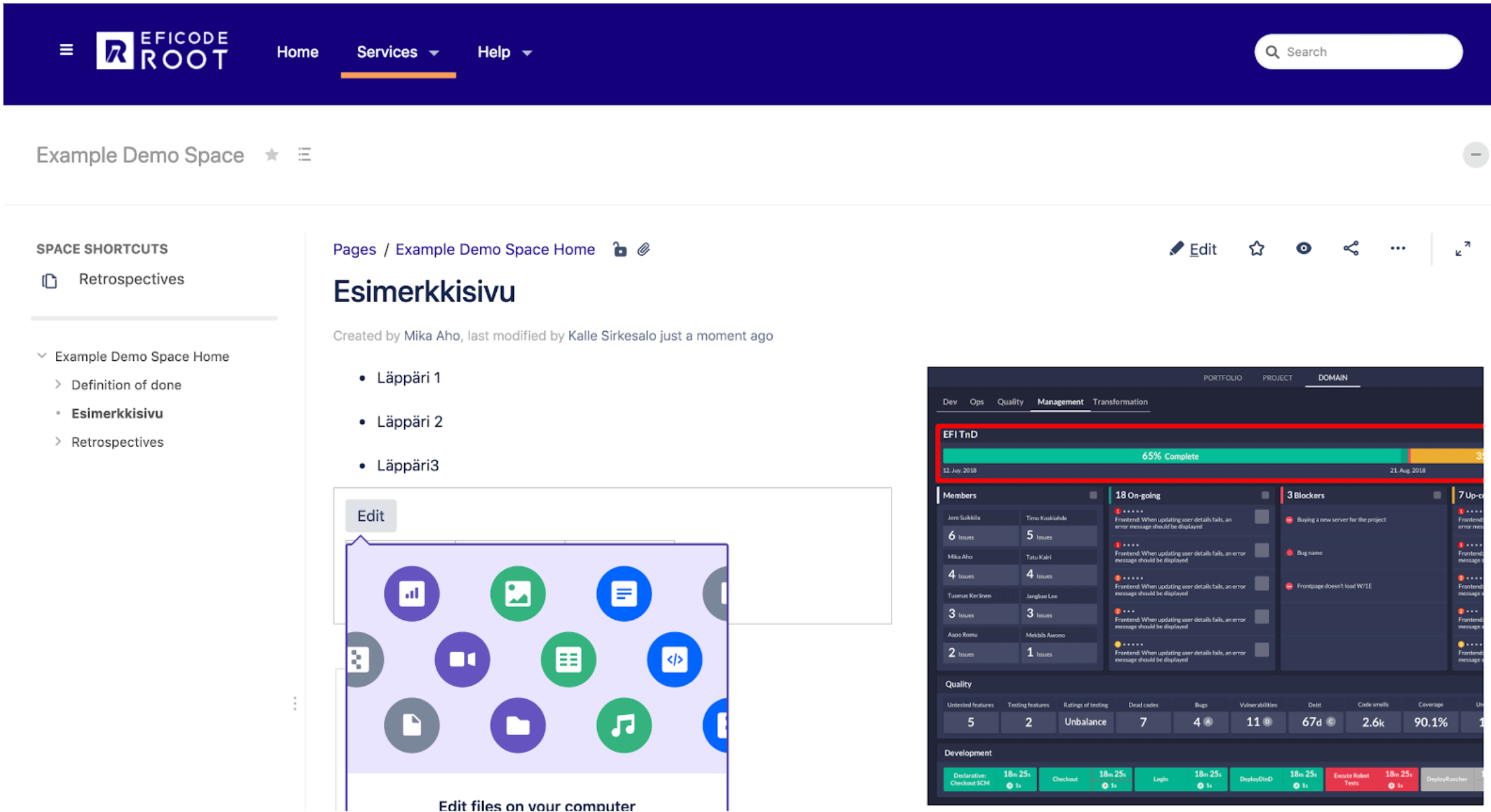 The edit feature was previously only available if you opened the file in preview first. With Confluence 6.14, you now have an edit option on the attachments page, Attachments macro and View File macros, so you can update files with fewer clicks.
What's new in JIRA?
JIRA 7.13 and JIRA Service Desk 3.16 patch a number of bugs and quirks. These versions do not introduce new functionality, but they do improve the system stability and user experience through updates made under the hood.
For full account please have a look at the Atlassian JIRA 7.13 release notes at atlassian.com and Atlassian JIRA Service Desk 3.16 release notes at atlassian.com.
What's new in Bitbucket?
For a complete overview of the changes in Bitbucket Server 5.15, you can head over to Atlassian Bitbucket 5.15 release notes at atlassian.com. Here are the essentials you need to know about this release.
Code Insights
Code Insights has landed and is now available in Bitbucket Server 5.15.
CI systems and other code analysis tools produce useful information about a codebase as it evolves. How can developers best take advantage of this information? How can teams benefit from this information without burdening developers with endless context switching and commit revisions?
Code Insights, that's how. You can now present important development information directly on pull requests inside the product, in order to proactively diagnose potential issues, shorten test cycles, and improve code quality.
To add Code Insights into your CI pipeline, take a look at the Code Insights tutorial at atlassian.com or contact your ROOT support.
What's new with other Eficode ROOT tools?
- Jenkins LTS 2.164.1, along with Blue Ocean 1.14 and a host of other plugin updates, provide a number of bug fixes, security patches and usability improvements. Please contact your ROOT support for more detail on updates scheduled for your Jenkins.
- Helix TeamHub 2019.1 introduces improvements to code review and UI usability, as well as some new features and bug fixes.