Eficode received yesterday evening Partner of the Year 2018 DevOps award from Atlassian! We are very honored and excited of the recognition and will continue to deliver award winning DevOps.
BARCELONA, September 3, 2018 -- Atlassian announced today that Eficode has received Atlassian Partner of the Year 2018: DevOps for their outstanding contribution and achievements during Atlassian's fiscal year 2018. This includes exceptional efforts in developing new business, thought leadership, and products and services that complement Atlassian.
Eficode was one of 15 recipients honored as Partner of the Year during the Atlassian Partner Day at the company's European Summit in Barcelona, Spain.
"Atlassian is thrilled to recognize and honor our 2018 Partner Award recipients", said Martin Musierowicz, Atlassian's Head of Global Channels. "Solution Partners are instrumental to our customers' success and we are excited to be able to highlight some of our top partners who are going above and beyond to support customers and provide Atlassian services."
Eficode highly valued the opportunity to help DNA and several other customers with their automation based on Atlassian products. Watch the note of congratulations from Mikael Kuisma, Change and Release Manager at DNA.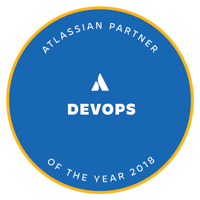 About Eficode
Eficode is building the future of software development. Through our DevOps platform and consultancy services, we help companies become successful high-performance software organizations.
Our Eficode Root DevOps platform is a complete, state-of-the-art software production line, tailored to perfectly fit our clients' needs. It comes as a turn-key solution with flexible options for support, maintenance, and hosting.
Eficode is a privately held, rapidly growing international company with approx. 250 employees. The company is headquartered in Helsinki, with offices throughout Europe.
Learn more at https://eficoderoot.com/