Before planning your migration, it's best to start looking into the options available to you and how to get started. Without properly assessing your specific needs and requirements, migrating over to the Cloud unprepared could spell disaster for your teams.
In this blog, we'll be discussing the different plans available to you and the requirements your business should be assessed to get the most out of your migration journey.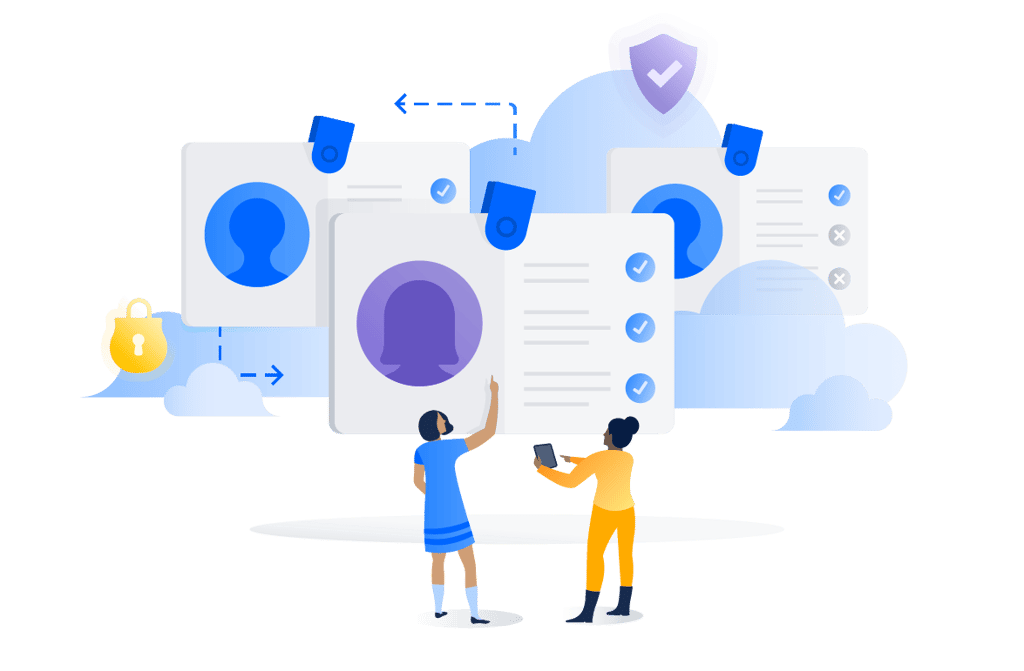 Understanding Cloud Plans
The first step in assessing your specific business needs is to understand the features and benefits of all Cloud plans of your Atlassian tools. Below is a table to outline the differences between each edition of the Atlassian Cloud to help you decide what plan will work best for your business.
Free
If you're heading up a small team, Atlassian's Free Cloud plan will give you access to the basic features, along with over 1,000 apps and integrations.
Free Cloud plans include:
Community support
Up to 10 users in Jira, Confluence, and Jira Core.
Up to 3 agents in Jira Service Management
Up to 5 users in Opsgenie, Statuspage, and Bitbucket
2GB of storage
Free plans can also be a good fit for teams who just want to try Atlassian's products before heading into a paid plan.
Standard
Built with smaller and mid-sized businesses in mind, Standard plans give access to everything you can find in the Free Cloud plan, as well as additional product features, like audit logs in Jira and Confluence, page insights in Confluence, and up to 100 major incidents per month in Jira Service Management (compared to the Free plan's five).
Standard Cloud plans include:
Up to 10,000 users in Jira, Confluence, and Jira Core
Up to 5,000 agents in Jira Service Management
Support from 9am – 5pm in your time zone
250GB storage
Data residency
Additional features in each of our tools
Premium
Guarantees 99.9% uptime, 24/7 support, and support responses in an hour or less. They also come with advanced features to help your team scale, like advanced roadmaps in Jira Software, analytics and bulk archiving in Confluence, and global and multi-project automation in Jira Software and Jira Service Management.
Premium plans include all the benefits of Standard, plus:
24/7 Premium support, with responses to critical issues in one hour or less
Financially backed 99.9% uptime SLA
Unlimited storage
Additional product features, including a sandbox environment to test apps and review changes
Enterprise
Customers of this plan benefit from a simplified billing structure and flexibility to set up multi-instance environments, with enterprise-grade security and compliance built-in.
In addition to unlimited storage and the features of Premium, Enterprise customers also get dedicated 24/7 support with 30-minute response times, and Atlassian Access is automatically included.
The benefits of our Enterprise plans include all the benefits of Premium, plus:
Unlimited instances with centralised user billing
99.95% uptime SLA guaranteed
Responses to critical support requests in 30 minutes or less
Atlassian Access included
If you're having trouble deciding what plan will work best for your business, check out Atlassian's Cloud Pricing Calculator to get all the information you need.
Do I need a Solution Partner for my migration?
When planning out your migration process, you may be thinking about whether or not it's beneficial to work with an Atlassian Solution Provider. While Atlassian and partners like us provide users with a plethora of content and tools to help you take a DIY approach with your migration to Cloud, there may be some cases where you'll need some support.
If any of the following apply to you, we suggest working with a Solution Partner.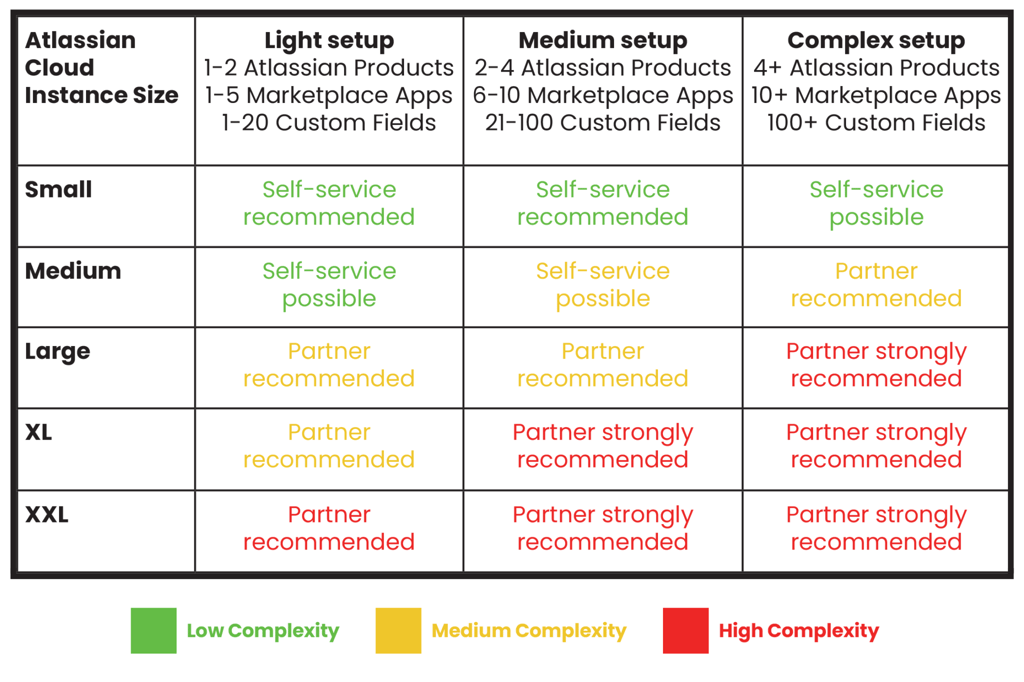 We also recommend working with a Solution Partner if:
You have limited resources
Your team is new to Cloud migrations
You want to mitigate risks
You want to accelerate your migration
How Atlassian can help with your migration?
Atlassian understands that while Solution Partners are vetted and tested beforehand, not every business is comfortable working with one. That's why Atlassian themselves offer businesses a means of getting help with their migrations directly.
What Atlassian CAN help you with:
Answering product, pricing, billing, and licensing questions
Guidance on planning your migration
Help with choosing a migration strategy and tool
Guidance on the execution process and production runbook creation
Assistance with user and group migration
Guidance on Atlassian Access and SSO setup
Help with the creation of a Server data export
Guidance on importing the Server data export into the Cloud
Pre-scheduled support for weekend and holiday migrations
Support for technical issues during testing or production migration
What Atlassian CAN'T help you with:
App analysis (unless you're migrating over 1,000 users)
App Migration
Upgrading Server instances
Merging multiple instances
Cleaning up your Server instances pre-migration
User clean-up and merging of duplicate accounts
Post-migration testing
Administrator training
Onboarding and training users
Note: The Support scope Atlassian offers can increase depending on your size and migration complexity.
Protect your migration with a Risk Assessment
To ensure a thorough examination of all potential risks and challenges during the migration process and avoid any unexpected issues, consider implementing a Migration Risk Assessment. It covers all potential risks, providing a comprehensive evaluation and recommendations to address them, allowing you to confidently prepare for the migration and ensure a smooth and successful transition.
It includes:
Risk factors with mitigations and recommendations
A Migration runbook (a personalised step-by-step guide to your migration)
A plan with estimated timings, including communications guidance and other ways to minimise business impact
Guidelines for a test migration (dry-run) to minimise the risk of unexpected problems during the live migration
Click out our Migration Risk Assessment Overview for more information!
Let us help with your migration
As we talked about earlier in this blog, it's good to sit down and work with a Solution Partner to help you get the most out of your migration to the Cloud. As a certified Atlassian partner that's helped over 80+ businesses in your position, we know how challenging weighing the options available to you can be.
By letting Clearvision (now part of Eficode) help you handle your migration, you and your teams can focus on doing the work that really matters.
See our Cloud Migration Services to help you get started!
If you'd also like to find out more about migrations in general, feel free to check out some of the content we've produced discussing Cloud migrations and how to get the most value out of them down below!
Published: January 31, 2023
Updated: June 26, 2023