Following the announcement in October 2020 about the end of sales and support for the Server edition, Atlassian accelerated its mission in becoming a Cloud-first organisation, introducing several changes laid out in a roadmap.
The first milestone of changes to take effect on the roadmap ending in February 2024 occurred on the 2nd of February 2021 and included:
The end of the sale of new Server licenses, incl. apps bundled in Data Center.
Price changes for Server and Data Center products.
The second milestone, yet to take effect on the 15th of February, 2022 PT will include:
Atlassian Server and Data Center advantaged pricing increase.
As a result of the advantaged pricing plan policy, several advantaged pricing plans are scheduled to increase in February 2022. The cost of Data Center and Server advantaged pricing plans will increase as part of a gradual rise in list pricing. Jira Service Management will reach list pricing at all tiers with this change, as well as several Server tiers across Jira Software, Confluence, and Jira Core.
End of user tier upgrades and downgrades for Server licensing.
Customers on any Server license will no longer be able to upgrade or downgrade user tiers. In alignment with the pricing changes and to provide customers with a single date for all updates to their Server and Data Center products, the date has moved from 2nd Feb 2022 to 15th Feb 2022.
New feature development on Server discontinued (only security bug fixes for critical vulnerabilities).
Atlassian will end new Server feature development and only commit to providing security bug fixes for critical vulnerabilities until the end of support for Server in February 2024.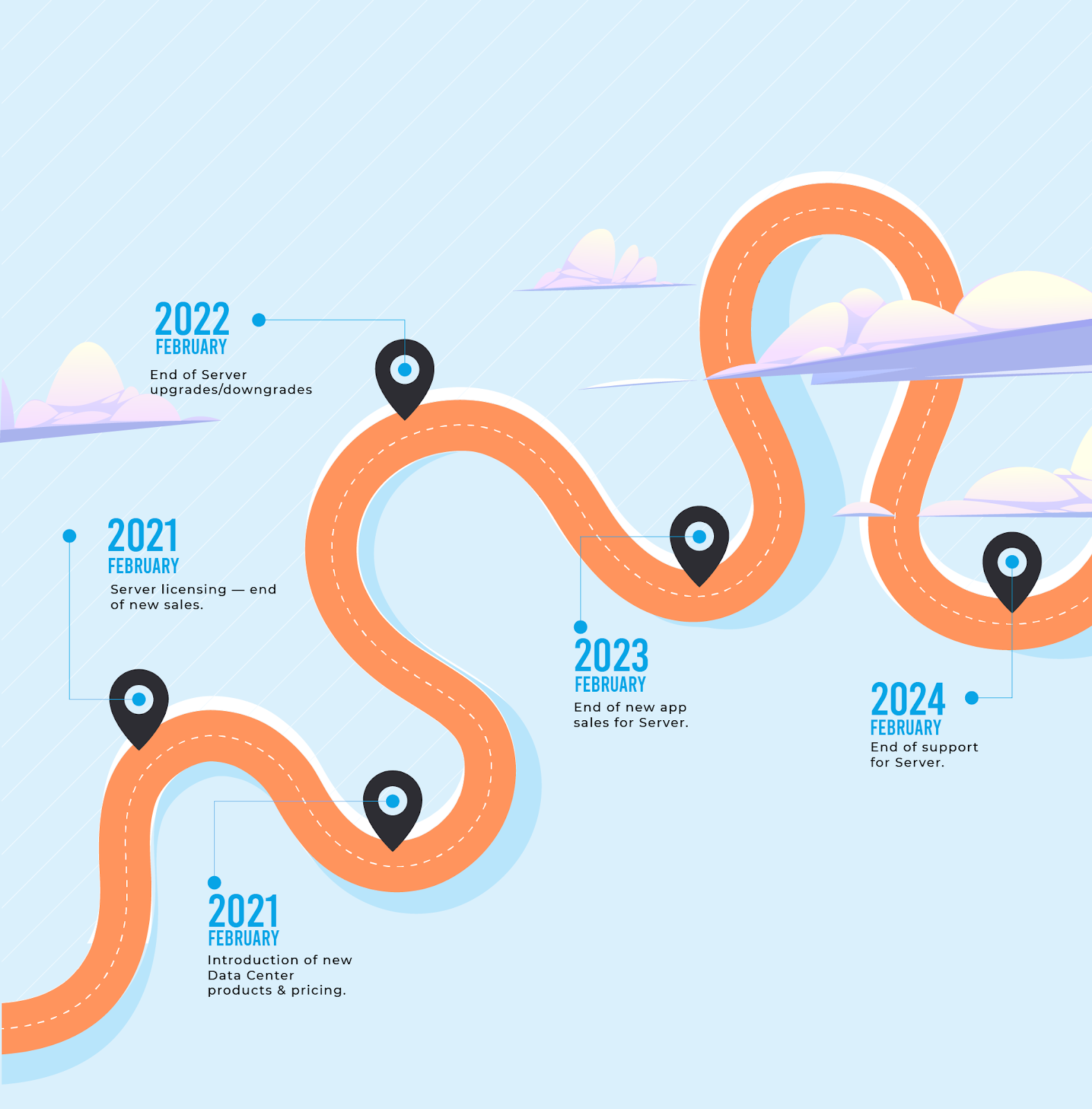 Atlassian's advantaged pricing plans
Advantaged pricing plans help customers with expected large list price increases by gradually raising them to list price. For example, the advantaged pricing plans for Jira Software, Confluence, and Jira Service Management Data Center are currently 12-51% below the current Data Center list price (depending on user tier, date of purchase, and product). With the upcoming price change, most products will remain below the list price, except for Jira Service Management.
Similarly, advantaged pricing plans for Jira Software, Confluence, and Jira Service Management Server are 4-70% below the most recent Server list prices, which are competitive compared to the market. Only a handful of select Server tiers have reached the list price.
Next steps for Atlassian customers
To change your Server user tier, request a quote for an upgrade or downgrade before February 15, 2022, PT - after which you will need to migrate to Cloud or Data Center to change your user tier. Note: Atlassian is honouring quotes for a user tier upgrade/downgrade generated before Feb 2022 PT until expiry.
If you're yet to migrate to Cloud from Server, we can help. Clearvision (now part of Eficode) is an Atlassian Cloud Specialized Partner, with experts dedicated to ensuring a smooth transition for our customers.
For those unable to embrace Cloud at this time, Atlassian continues to invest in its Data Center offering, specifically where security, compliance, performance, and scalability are concerned. As a leading Atlassian Platinum Solution Partner, we also provide services for Data Center users and are more than happy to help.
Published: January 14, 2022
Updated: November 16, 2023