Great teams know how to leverage the right combination of people, processes, and technology in order to achieve success.
Wikis are rapidly becoming one of several benchmark technologies used by successful teams across the globe due to the hyper accessibility of real-time information they provide to any number of people in any location, using almost any device. Wikis are also ideal for fostering collaboration. They provide a centralized and version-controlled repository for documents, allow for rich content editing, and optimize communication processes to boot.
The process of adopting technology so rewarding is naturally accompanied by some inherent risks as well. Wikis are no exception; they are potentially prone to duplicate or stale content, which leads to navigation and user frustration for end users.
Atlassian Confluence is an incredibly powerful wiki tool, but with great power comes great responsibility. The goal of this post is to provide you with 10 quick-and-dirty Confluence best practice tips that will arm you with:
A greater understanding of WHY organization/governance of your Confluence Environment is important
The ability to make an immediate impact on the cleanliness of your Confluence (irrespective of job title, industry, or experience level)
A foundation to harness the robust functionality of Atlassian Confluence to enable your respective teams instead of hindering them
Looking for more? Check out Clearvision's (now part of Eficode) range of Confluence training courses.
1. Write first, format second
The only formattings that should be used when initially creating content is Headings and Tables. These can help add some basic structure and organization to your brain dump without actually slowing down the flow of information onto the page.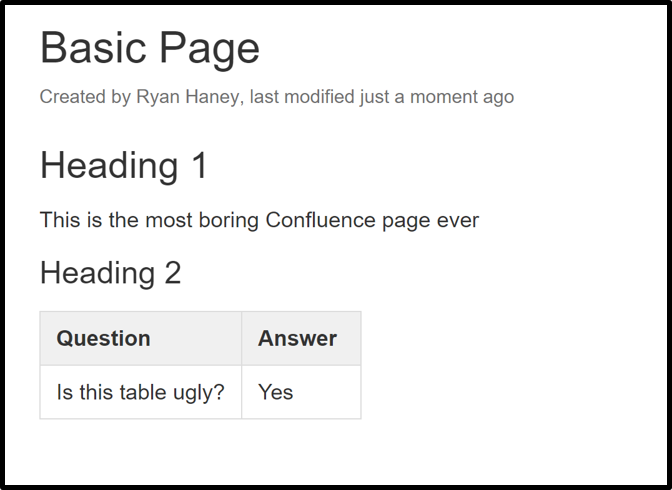 As a personal rule of thumb, I don't do any Additional Beautification Formatting until at least 75% of content capture is complete. Beautification formatting can include:
Font Styling (Bolding, Italisizing, Underlining)
Adding Emoticons or Symbols
Adding "Visual or Aesthetic" Macros such as Table of Contents
The "Tip" Macro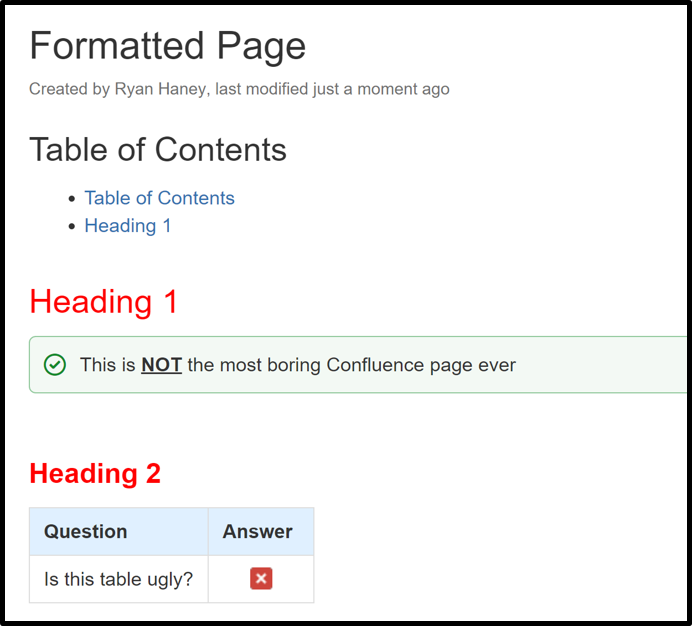 2. Add metadata to spaces
This may sound tedious, but think about it – by putting a simple description, you can reduce information from unintentionally being siloed off from users who aren't as familiar with your Confluence Environment.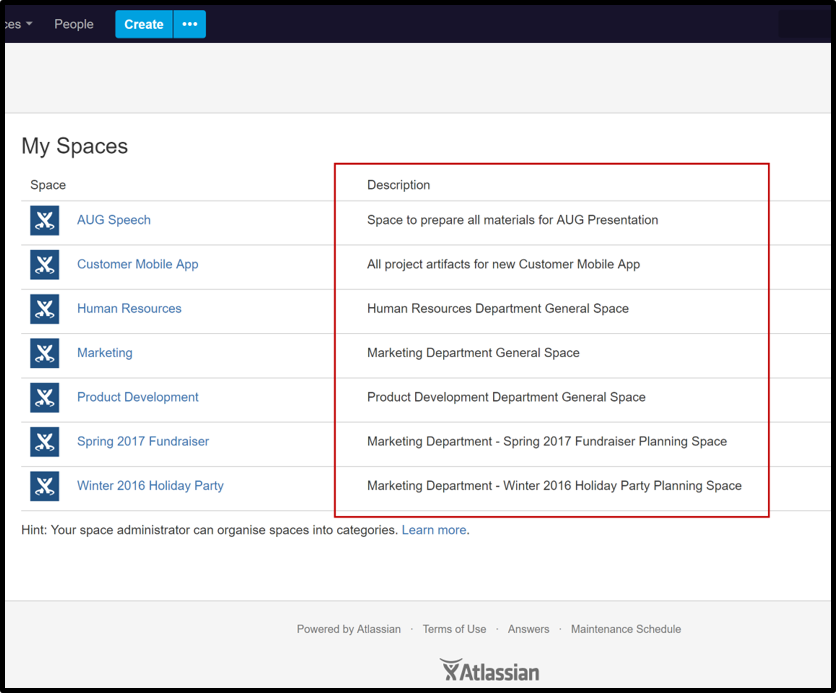 Similarly, utilise Space Categories. They allow information to be easily grouped, and more importantly, easily located as your Confluence instance continues to grow.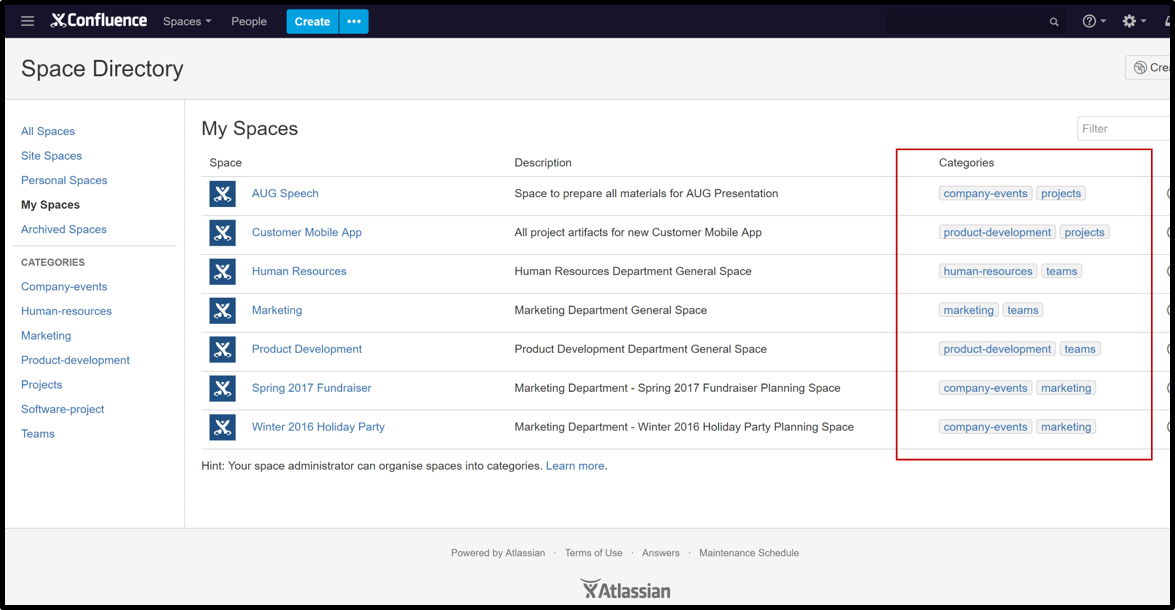 This specific example of how space categories can be utilized brings me to Tip #3…
3. Use the "Space List" macro
This macro can be inserted into any page and allows a user to dynamically "filter" a list of spaces in several ways through the tabs on top: All, Favorite, New, or by CATEGORY.
As you can see below, the categories in the drop-down menu reflect the categories applied to the spaces in our previous screenshot.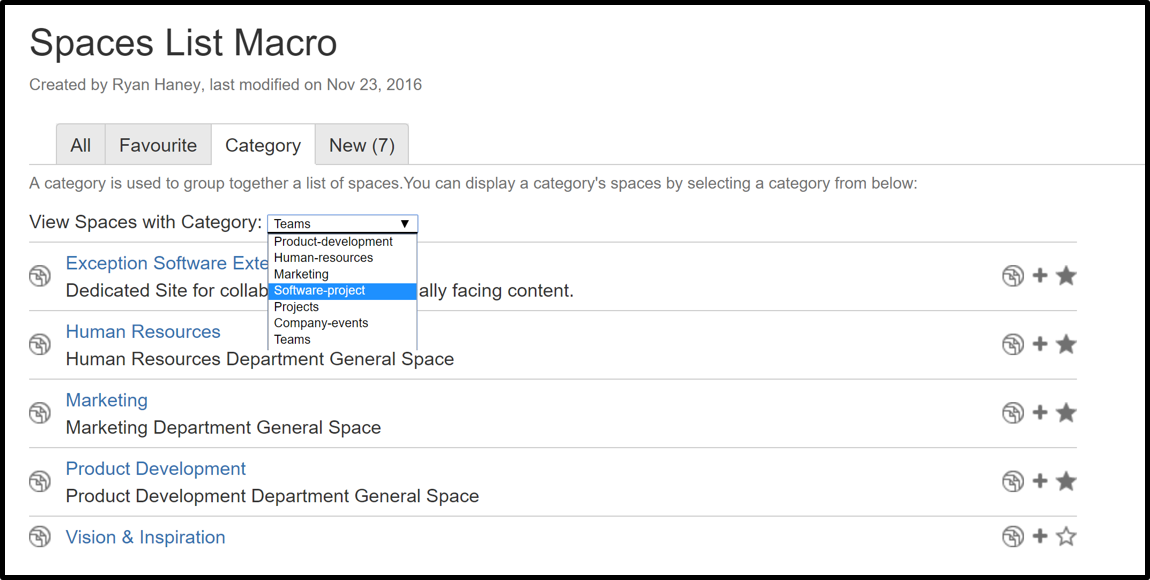 4. Standardize documentation with page templates
Page templates allow you to create user-friendly "e-forms" that ensure all of the information you desire to capture is clearly defined. They include instructional text (highlighted in grey below) when a user first creates or edits a page.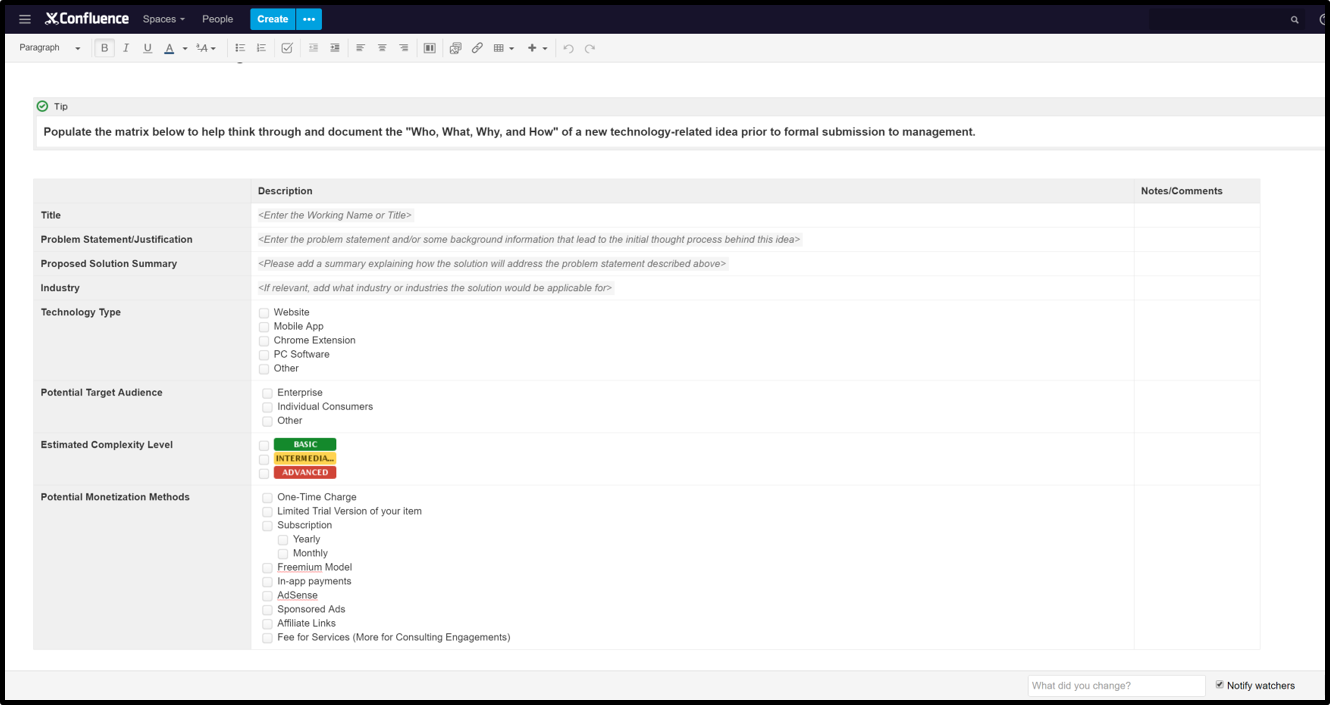 5. Standardize hierarchies by copying page trees
Another way to standardize the information created is by leveraging the functionality of "Copy Page Tree", new to Confluence 6.0. This allows you to copy a page and all of its respective child pages to a destination in Confluence of your choosing.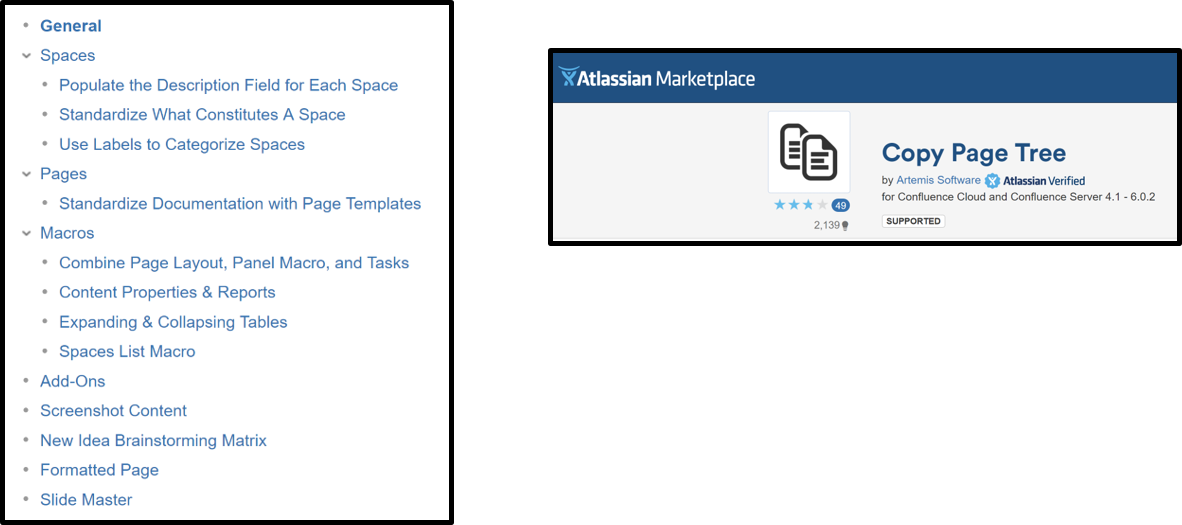 Here's an example use case for a software development team:
New spaces are created for each new product your team is tasked to build
For each new product space, you must capture the same series of pages such as Team Information, Requirements, and Mockups… each on a separate page
Instead of manually recreating the page hierarchy one page at a time, you can simply copy the page tree from one space to another and modify pieces of information accordingly.
To take it one step further, I recommend creating one "Skeleton" Space which contains one or multiple page hierarchies stripped of any specific information that can be accessed and copied at any time to a different space. This way, information only needs to be added instead of added/removed which reduces the risk of copying irrelevant or private content between pages.
6. Add labels to your pages
Think of labels working in the same fashion as hashtags on Twitter or Instagram. By applying one or multiple "labels" or "tags" to a page, you can streamline the process of finding content later simply by filtering search results based on a pre-defined label.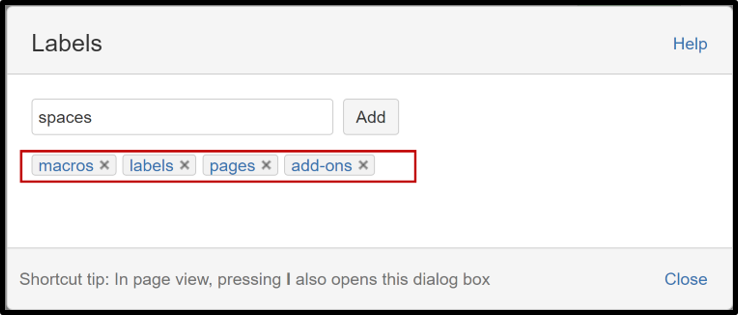 Clicking on a label will display all content tagged with the said label (with proper respect to space or page permissions).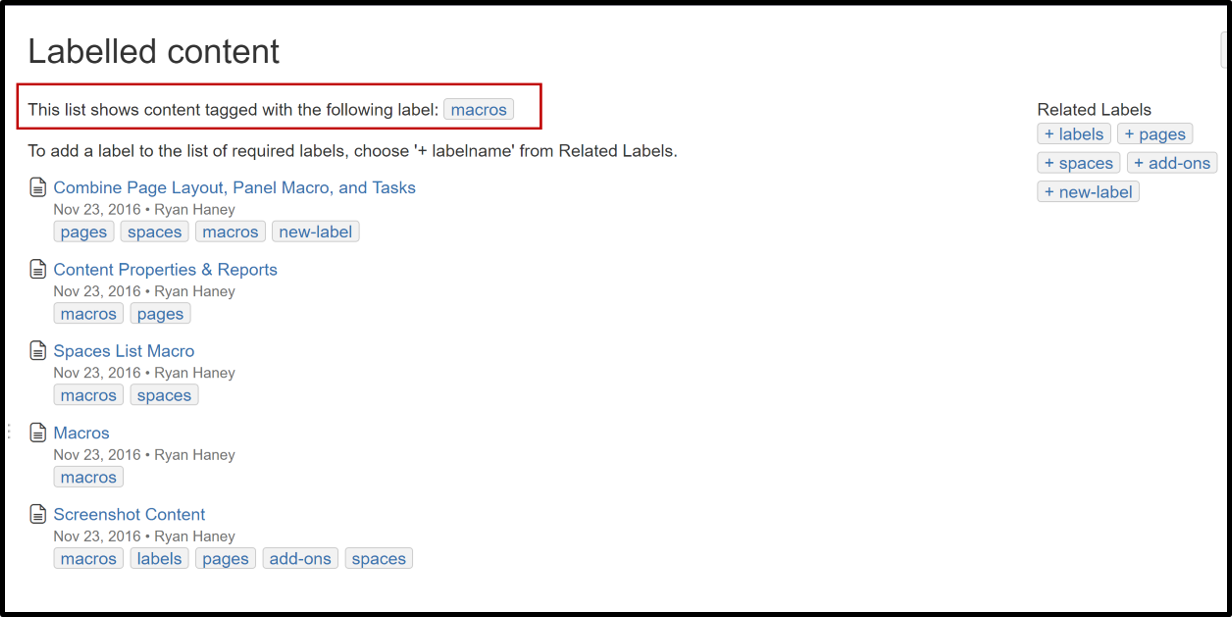 7. Use the "Content Report Table" macro
The Content Report Table macro will show a list of content in Confluence based on a predefined filter.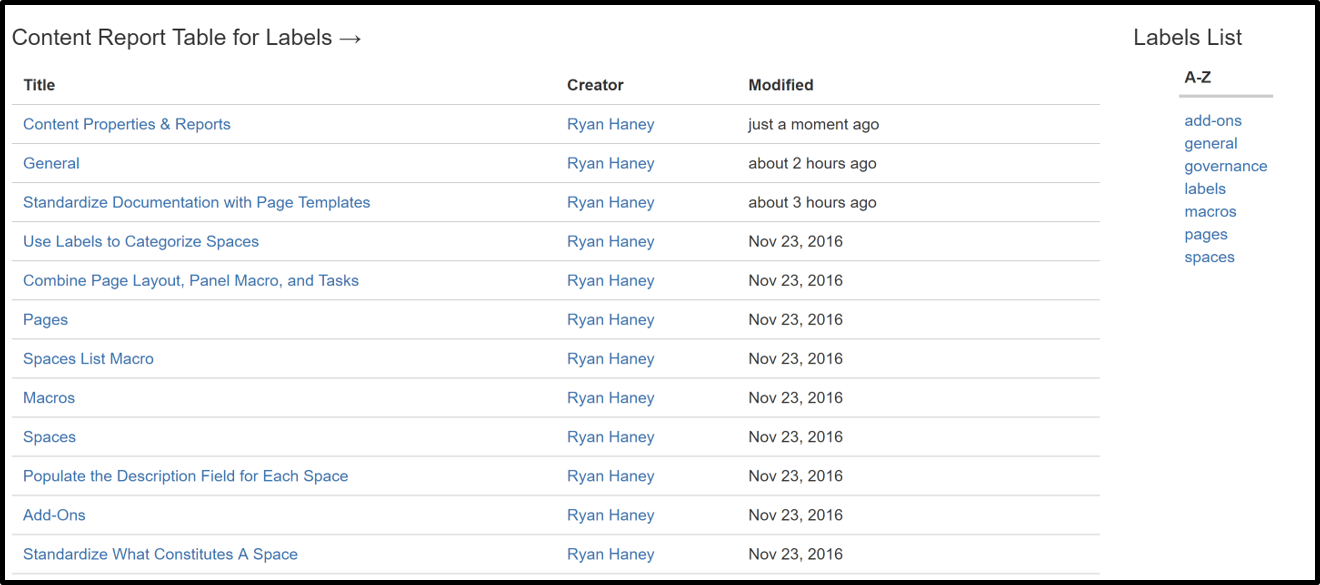 In this screenshot, the Content Report Table macro (on the left) is configured to display all pages which posses any of the labels displayed underneath "Labels List" (on the right).
8. Combine "Page Layout" and "Panel" macros
By adding columns to your page layout and customizing the colours, borders, and headings of panels, you can create pages that are aesthetically pleasing and, in turn, make information easy to digest for all users.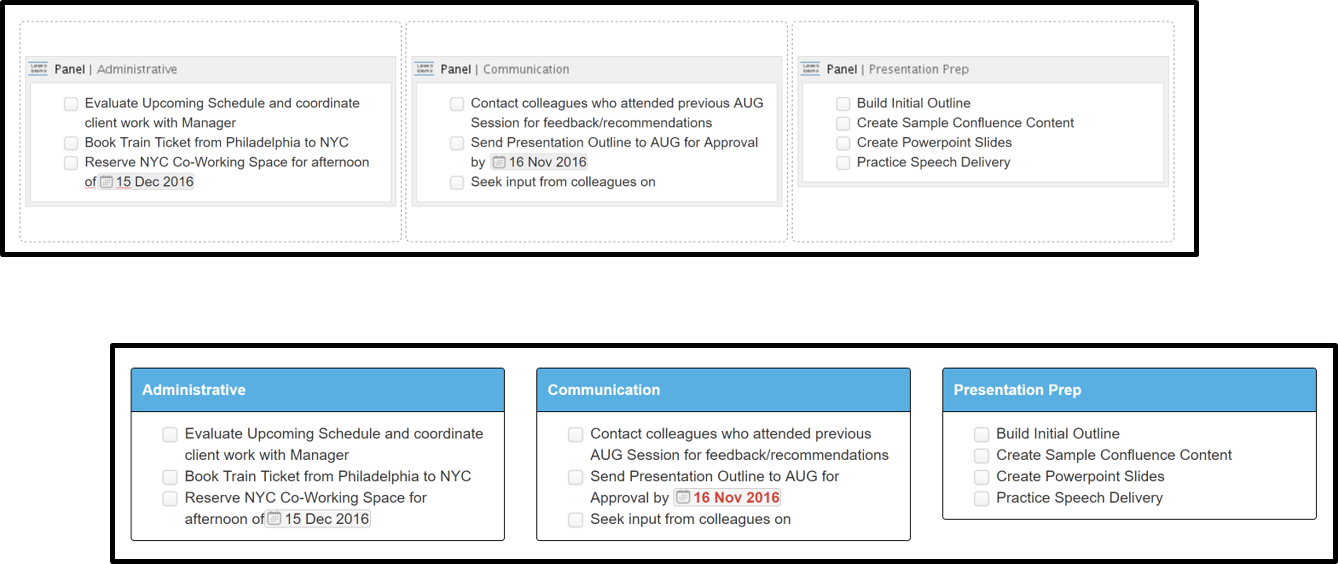 9. Expanding and collapsing tables
Here you can see a matrix I created to help organize this post. If I want to view only basic information, such as the list of 10 tips, this collapsed view of the table is ideal.

However, I can quickly access detailed information for any slide by expanding the "Slide Images", "Slide Talking Points", or both.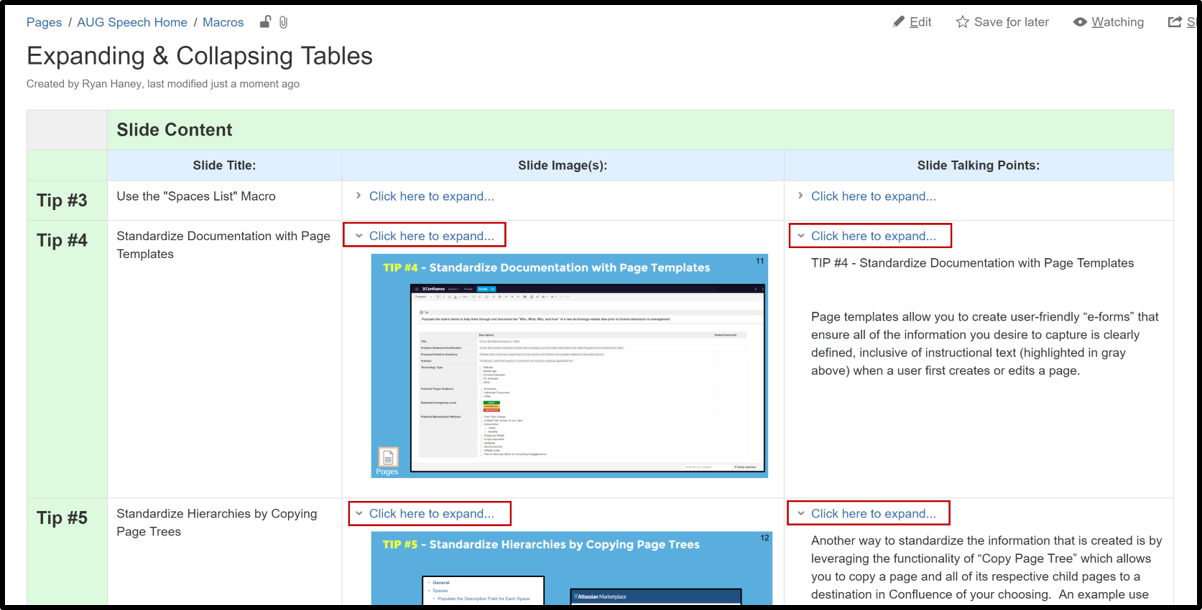 10. Formalize a governance process
Clearly define what constitutes a space – start by reflecting on your organizational structure and work down from there based on your products or functional groups.
Standardize naming conventions of spaces and pages
Implement a formal Archival Policy on both an individual and site level – designate an Information Architect and schedule regular meetings – a little maintenance work upfront will help alleviate major clean-up headaches in the future
Document your Governance Standards – put them right in Confluence!
In outlining these Confluence best practice tips, we've just scratched the surface – there's a lot more you can do to configure Confluence to work for you and your teams! As an Atlassian Authorized Instructor, Clearvision offers a range of flexible Confluence training courses, as well as training for the rest of the Atlassian products at all ability levels. Get in touch today to find out more!
Published: April 12, 2018
Updated: June 22, 2023