Valmet Industrial Internet (VII) solutions helps customers improve energy, chemical or environmental efficiency, optimizes pulp and paper quality or increase the reliability of their processes. The solutions combine advanced monitoring and prediction applications, Advanced Process Controls (APC), dynamic process simulators, and remote services from Valmet Performance Center into comprehensive solutions.
VII was born around Agile prototype development and the unit quickly developed solutions that customers found interesting. The next step was to create a scalable operating model without sacrificing agility and innovativeness. Valmet Automation sought Eficode's support for this step.
The challenge: from prototyping to scalable product development
Valmet Industrial Internet (VII) was started as an experiment to create new product candidates to utilize the data produced by Valmet automation systems. Product development was rapid, aiming to develop and introduce prototypes quickly to customers.
Customers liked what they saw, but it soon became evident that even high-quality prototypes were not the same as production-ready solutions, mainly as the products were meant to run inside customers' critical production processes.
Valmet Automation's product development leadership saw that VII developed valuable product candidates but that the development processes needed to be standardized for development to be scalable. In addition, Valmet decided that quality assurance should be an integral part of the end-to-end development process. This way product quality would always be up to par, and development teams could detect potential issues early enough to fix them fast and cost-efficiently.
The solution: transforming the development and quality assurance process
Valmet chose Eficode to help build sustainable development and a quality assurance process.
Eficode experts started the cooperation with a situation assessment that helped form a shared understanding of the situation and prioritize development efforts. The situation assessment confirmed Valmet Automation's take on what was the situation
The maturity level of the development process born from prototype development was low and the process was not readily scalable. The process documentation was incomplete, too.
Testing was primarily manual especially the demanding Factory Acceptance Testing phase, which was time-consuming
The organically grown development process lacked some key roles, which led to bottlenecks and risky dependencies on certain personnel
Eficode and Valmet started the development effort with a series of Ways-of-Working workshops facilitated by Eficode to dissect the current state of the process and compare development alternatives.
The workshops outlined how VII could use modern DevOps practices to offer customers products that meet their needs faster than before and ensure a quality assurance mindset that was strongly present in all stages of the process.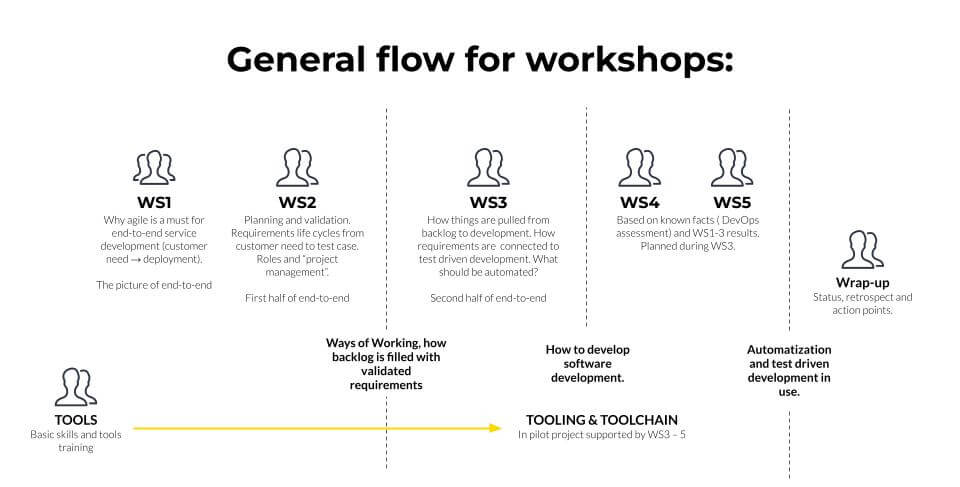 The workshops culminated in building a more scalable product development process based on a so-called acceptance-test-driven development framework (ATDD). In ATDD, the requirements for the system are written as acceptance test cases with a descriptive language that is compatible with the test automation system. This framework enabled the standardization of requirements specifications and ensured all stakeholders understood the requirements the same way.
After this process was planned and documented, the team went on to plan and automate the quality assurance process. Automation enabled continuous testing earlier in the process, and developers received feedback earlier and faster, making their work more efficient and accelerating error corrections.
As a part of the development process, Eficode helped Valmet develop its set of tools and ensure it had the most appropriate tools available for all process stages.
The result: a new product, excellent quality, and fast deliveries
The first tangible result of the process built by Valmet and Eficode is the new packaged Valmet Data Discovery platform that started shipping in early 2021. The Valmet Data Discovery platform helps customers utilize the troves of data extracted from automation systems and industrial processes and use it to improve reliability and process efficiency.
A more robust and efficient development process helps Valmet deliver better solutions to its customers faster than before
The Director of Analytics and Applications Development at Valmet, Mr. Arttu-Matti Matinlauri, says:
"We have been developing Industrial Internet solutions for four years now. This platform is the fourth generation in which we have been able to combine everything we learned. It is a robust software suite developed in record time that comprises everything from data collection to data models to AI-assisted computation and striking big data visualizations. Eficode helped us transform our operating models and development processes to enable all this. We've developed our DevOps, testing, and deployment processes with trusted experts from Eficode."
Outcomes of the cooperation:
Good understanding of the starting point
Prioritized process development
Deployment of the Acceptance Test Driven Development model (ATDD)
Improved quality and more cost-efficient quality assurance
Accelerated product development
The ability to bring out, e.g., edge cloud solutions to customers in record time