Adopt the right practices with the right culture
Including a new tool in your stack is a large undertaking. It involves both the upskilling of people, changing of processes and experience from trials to be ready for production. Our DevOps training services can help you in all these aspects, starting with setting your teams up for success by leveraging the powers of the new tools.
DevOps training based on the real world of DevOps
Our training material is designed by seasoned experts in the field with production experience. We have cut straight to the core of what you need to know to use the tools, and we are not afraid to call out the real-life pitfalls and proven best practices.
Skilled and laid-back teachers who really know Docker and Kubernetes. I feel that this course is really needed for all devs.
Marko Melko
Viestilehdet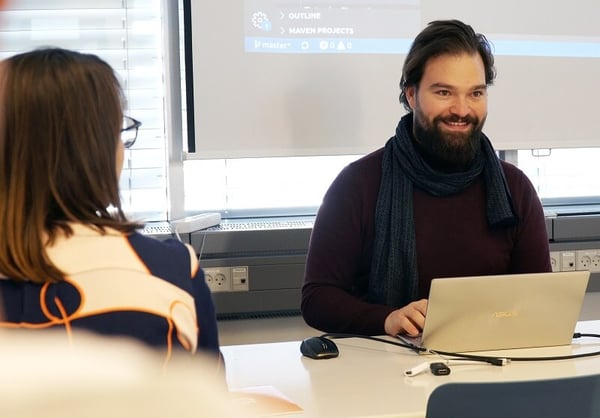 Why training with Eficode?
Modularized learning based on your stack
Before every training, we will have pre-training meetings, making sure that we focus on your problems and goals for the training. All our training offerings are modules of half or full days, and can be combined to serve your team's needs.
Focus on hands-on training
Getting hands-on in a learning environment is the best way to learn new tools. Our courses focus on hands-on exercises from the start, and we have created a learning environment where all tools are set up, so the learning experience is as focused as possible.
Holistic learning approach
With our team-based training, the result is a great foundation to implement new tools and practices in your team. For accelerated adoption of new tools, we offer coaching to bridge the gap between classroom learning, and real-world complexities.
Training programs
In training, one size definitely does not fit all. We offer dozens of different training modules and exercises, and we can tailor the training based on your unique needs for fast and measurable results.
Here are some of our most popular training programs: