Many are familiar with the Atlassian platform, a suite of web based tools that support collaboration, development and information management in organizations. Atlassian's applications create business values like transparency, increased collaboration and efficiency.
Jira is highly configurable and can easily be customized to support all kinds of business processes. When we build up this configuration it needs to sustainable, in other words, needs to;
Align to the organization's way of working

Support the end users needs
Be maintained
Constantly evolve
In this blog article, we share insights into why managing the platform is important, and provide concrete advice on how to optimize the platform to get more out of your Atlassian investment.
Why maintenance is important
A well established maintenance ensures that the company gets the expected effect out of the tooling. But what is the foundation for achieving that effect? The answer is simple: the users.
If the tooling is not perceived as useful for a specific activity, users will quickly flee to something they perceive as more suitable. The intended effect will be lost along the way. Instead risks arise such as information gaps, data leaks and halting collaboration that can lead to friction in the organization.
A small effort can take you a long way. With a long term plan and continuous check points, you can ensure that you really make full use of the platform. You will be able to:
Increase the ability to scale the platform
React more quickly to changes in the outside world
Proactively find and implement improvements
Continuously measure that the intended effect is achieved
Identify and handle risks
Keep users happy and content
4 tips for sustainable maintenance
#1 Find out about the current situation
The first step is about understanding what the situation looks like right now:
Identify and interview the system owners and sponsors. Business needs can be divided into the following areas; technology, compliance and operations. List key requirements.
Analyze the utilization. What business processes are supported? How deep does the support go? How business-critical is the process? Gauge the user's competence to handle the tool? What is the expected effect and what is the actual effect?
Interview a selection of end users to gather needs.
#2 Formulate vision and goals
Think ahead and capture big and small needs in a roadmap. What level of ambition should we pursue? Are we satisfied with a low utilization rate or do we want to scale up to medium or high? Where do we want to be in three, six and nine months, and why? Assign a budget for achieving the roadmap.

Find routines for prioritizing and planning activities. Examples of assignments in this roadmap can be:
Investigate what it means to migrate the platform from On Premise to Cloud.
Make a Proof of Concept on an add-on app that supports forecasting and budgeting.
Increase automation in the CI/CD chain by implementing Bitbucket Pipelines.
Maybe there is a need to scale deep or wide. This may require apps from Atlassian Marketplace.
Scale deep
Find and reduce manual steps in an existing process.
Integrate with other systems – ERP, email, other Jira instances?
Identify stakeholders that are key to the process, but are excluded from the tool.
Scale wide
Identify and support processes that lack tool support today.
Replace standalone tools with apps from Atlassian Marketplace so that users do not have to switch between different tools.
#3 Organize maintenance
When we know what we want to achieve and with what budget, we can start organizing ourselves. In this step, it is important to set mandates and roles. Who can request what type of change and who prioritizes among the assignments. Here is an example of a maintenance structure for an organization with a high utilization rate. Scale up or down according to ambition level.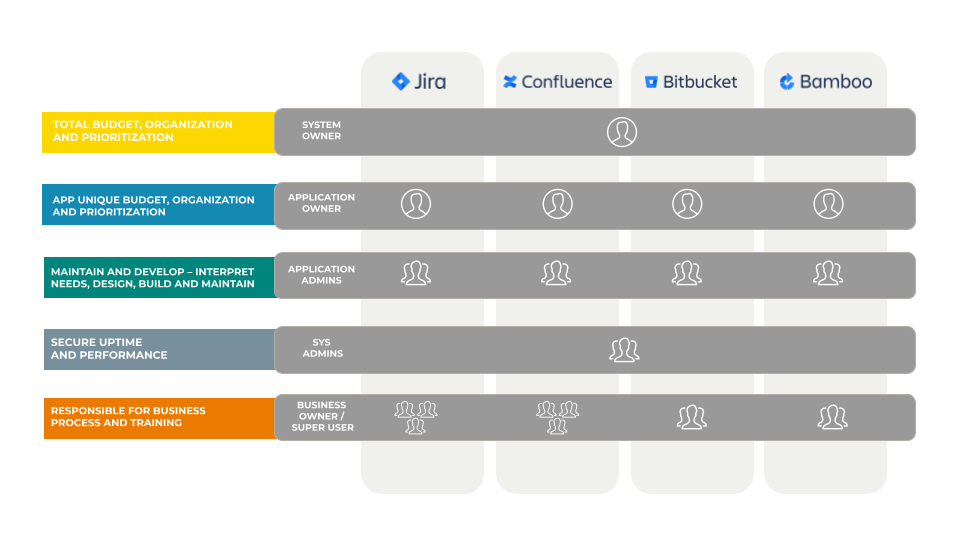 Note how the ownership of the process is distributed. Try to involve end user representatives in taking ownership of how the process is configured in the applications. They can support system owners and application owners, and can help out by identifying changes, filtering and sifting through change requests and taking responsibility for onboarding new staff. Are you running an Atlassian Cloud site the Sys Admin Role is redundant.
#4 Work with concrete tasks
Based on the chosen level of ambition, we can start working with concrete tasks. Here are some examples of what it might look like depending on your level of ambition: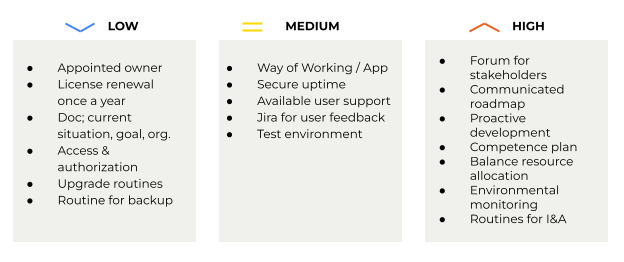 Published: March 16, 2022