Atlassian's SaaS service, Atlassian Cloud, has been on the market for a while and lived side by side with the more traditional products Server and Data Center. In the autumn of 2020, Atlassian announced that its oldest product, Server, will retire in the spring of 2024.
Atlassian also communicated that the focus on being a cloud-first company will be intensified. Atlassian will invest even more time and money in developing its SaaS service in the coming years.
A consequence of Atlassian's decision to retire Server is that many companies consider migrating to Data Center or Atlassian Cloud. But how do you know where to start or, more importantly, which product plan is best for your business? In this blog article, we will describe Atlassian Cloud's various product plans and what to consider when choosing a plan.
But first, let's take a closer look at the benefits of migrating to Atlassian Cloud.
Benefits in the cloud
Atlassian points out that a migration to Atlassian Cloud means better support, less maintenance, more secure data and better performance. Our experts at Eficode also want to highlight the following benefits of the product:
Continuous updates
Unlike the locally installed products (Server and Data Center), updates are made automatically to the cloud. You don't have to do anything. Atlassian Premium and Enterprise supports release tracks, which gives you time to plan for multiple product changes and features that will impact your users.
Scalability
If usage increases, the infrastructure is scaled up automatically. This allows you to immediately save money that would otherwise have been spent on new hardware (cost of ownership).
Sandbox environment
Atlassian has invested in what they call a "Sandbox" where you can test changes before it is released to production. It works like a test environment. Sandbox is currently in the Beta stage and is available for Premium and Enterprise customers.
Flexible payment model
Payment can be made in two ways; annually or monthly. In the annual payment model, you buy a license level for the next year, while in a monthly payment model you smoothly use the principle "pay-as-you-go" and pay for what you use. If you choose an annual plan, you can receive a two month discount.
What product plans are there?
Atlassian's flagship products Jira Software, Jira Service Management (JSM) and Confluence are available in four different product plans: Free, Standard, Premium and Enterprise. So what does each plan mean? We explain them below.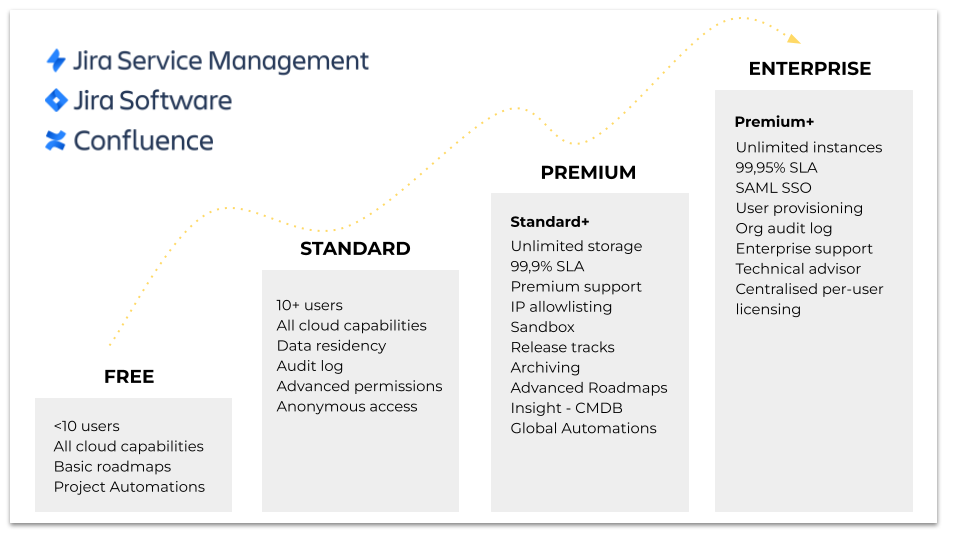 Free
Free is what it sounds like – a free product plan. It is suitable for companies that want to try out the products, or for a team that does not need more than ten users in Jira Software and Confluence, or three agents in Jira Service Management. The free plan has a few limitations but gives the user a good insight into what the product can do. Examples of limitations are that the management of users is very limited and you have to turn to the Atlassian community for support. Storage space is limited to 2GB, which can affect you if you use many attachments. Otherwise, Free is relatively similar to Standard and thus a good platform for evaluation.
Standard
Standard gives you additional storage space of 250GB which is a real step up. Atlassian also offers 9-5 support (without SLA requirements from Atlassian). Fortunately, incidents rarely occur in individual sites. Furthermore, you can have up to 20,000 licensed users in one site, and audit logs are added to review activities on the site. If you have previously used the traditional self-managed versions of Jira or Confluence, you will recognize the setup even if certain functions and interfaces have been updated. With Data Residency, you're able to pin product data to a defined location such as Europe or US. Standard gives you a satisfactory version of Jira and Confluence with what you expect. No more no less. This plan is suitable for small groups in need of agile tools for one or more teams that work individually or cross-functionally.
Premium
Premium contains several news in the cloud environment. Today's product offers, among other things, unlimited storage space, 99.9% (financially backed) SLA, priority support and a number of extra features that take the products to the next level. Premium includes the immensely popular application Advanced Roadmaps (formerly Portfolio), which gives business leaders a holistic perspective. Furthermore, there is support for automation in both Standard and Premium, but unlike Standard, Premium offers the opportunity to build automation rules that apply to more than one project. And don't forget about Insight, the flexible CMDB which allows your organization to manage any kind of resources that are important to their service request, incident, change management practices and much more. Given the above-mentioned advantages, we believe that Premium is suitable for established groups or companies with experience in Jira who need help taking the tool to the next level.
Enterprise
Enterprise is the latest addition to the family and is aimed primarily at large companies with over 1,000 users and strict requirements for security and data storage. Unlike other plans, Enterprise allows you to set up unlimited instances with a centralized per-user licensing.. You also get access to Atlassian Access, which acts as a security interface at the organization level. You can apply the most well-known security protocols and policies connected to login, and easily connect to directory services through an intuitive UI.
Which product plan should we choose?
Several factors need to be considered when choosing the right product plan for your business. It may be helpful to ask yourself the following questions:
What does your Atlassian strategy look like today?

Always consider how well you know Atlassian's products. You should adapt your strategy based on how much the organization uses the products and choose a product plan that suits the usage.
How business-critical are the products?

Do the products support a number of critical processes? Can you afford a downtime that is beyond your control? Be sure to take this into consideration as one often underestimates how dedicated the organization is.
Do all products need to have the same product plan?

Do you know that you can choose different plans depending on how you use the tools? You may need Jira Premium to get access to Advanced Roadmaps, but Confluence Standard may be sufficient for the requirements you have.
Do all employees need to be on the same site?

An organization rarely works in exactly the same way in all teams and departments. Atlassian Cloud offers multi-site structure, i.e. the ability to create multiple sites with different products on each site. Your IT department may only be interested in Jira Service Management and Confluence for IT Service with the support of KB functionality, while the developers require Jira Software and Bitbucket. If this is the case, you may want to divide the sites and licenses.
Where do you see yourselves in a year?

Finally, the most important thing – think ahead. What will your organization look like in a year? What kind of support do you need from the tool? Do you need to supplement the product with additional functionality through apps?

You can't go wrong when choosing a product plan in Atlassian Cloud. Should you make the wrong decision, you can always upgrade or downgrade in the middle of the license period without having to pay a fine. Eficode wants to help you make the right decision concerning how to grow your organization and create the best possible conditions for your employees to collaborate.
Published: February 14, 2022
Updated: November 16, 2023