In this blog, we summarize the changes Atlassian will be making to Data Center and server licenses and how we at Eficode can help you start planning the next steps you need to take.
Atlassian's mission is to unleash the potential of every team and in the future this will be built on sharpening their focus as a cloud-first company. Atlassian have just announced bold changes to simplify their server and Data Center offerings.
Whether you use Atlassian solutions independently or as part of the Eficode ROOT DevOps platform, this is relevant for you. Eficode, as the only Atlassian Platinum partner across four Nordic markets, helps you leverage both cloud and Atlassian Data Center. Our vast experience in cloud and Data Center migrations will help you both reduce costs and maximize performance.
Timeline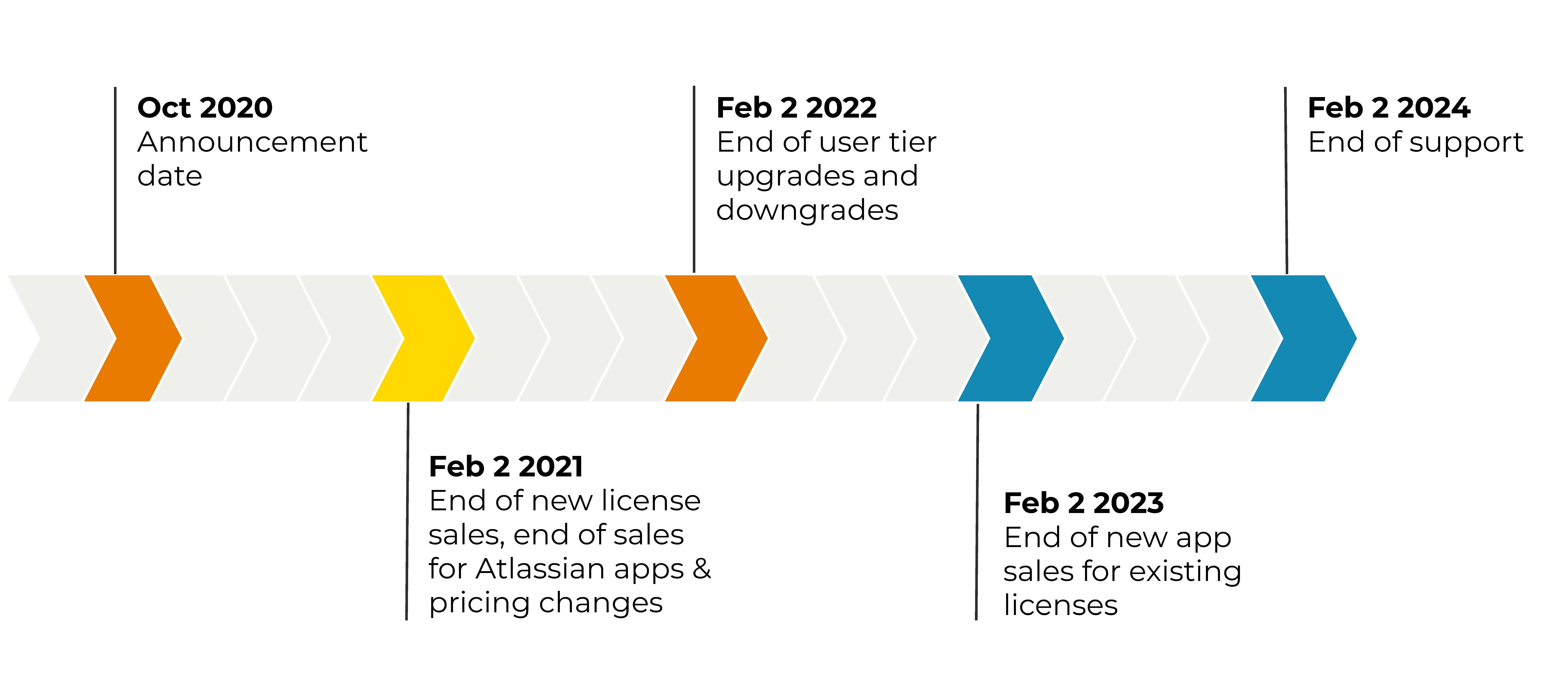 What are the changes?
For Atlassian server
Feb 2 2021
End of sale for new licenses
End of sale for Atlassian apps included in Data Center
Price increase for maintenance of existing server licenses
Feb 2022
End of user tier upgrades and downgrades
Feb 2 2023
End of new app sales for existing licenses
Feb 2 2024
For Atlassian Data Center
Feb 2 2021
Price increase for Data Center subscriptions
Native Apps included
Priority support included
Coming soon
Bamboo Data Center available
You can find future pricing information on Atlassian's website.
What should you do now?
Cloud computing offers great advantages. Wherever you are in your Atlassian solutions journey, our experts can help you leverage cloud or Atlassian Data Center to reduce costs and maximize performance for your entire organization.
We'll help you by assessing the best option possible for your environment, give you information on the pricing, assess your total cost of ownership (TCO) and develop a migration plan based on your requirements.
Get answers to your questions!
Register now for a forthcoming webinar bringing you up to speed on all the changes Atlassian have announced. Sign up here and get notified as soon as further webinar details are published. If you miss the webinar, by registering we will be able to send you the recording direct to your email.
Published: October 19, 2020