Ronja Pahaoja is an accessibility specialist, musician, athlete competing in European championships, and a student in computer science. As a person with a visual impairment, she is closely familiar with challenges in accessibility people face in their day-to-day lives.
You started as an accessibility specialist at Eficode in September 2019. Would you tell me about yourself, what kind of work have you been doing?
"I have extensive experience in work related to accessibility. My work has primarily involved accessibility analysis, while some of my other projects have mostly concerned accessibility design. I have also been giving lectures and provided training for customers and at different events.
Once, I was giving a training session and was using a popular Finnish service as an example of poor accessibility. After I had given my presentation, I learned that the people who had designed the service had been in the audience. Well, at least they really got the message", Ronja laughs.
Ronja often also extends the accessibility analysis to the technical side of things and enjoys coding very much. No wonder that she once changed her degree programme from Finnish language to computer science.
"In my previous job as an application designer at the Finnish Association on Intellectual and Developmental Disabilities, I was involved in creating an accessible social media service and was my team's technical specialist."
How did you end up working at Eficode?
"I noticed a Facebook job announcement for an accessibility specialist by Raino Vastamäki, the leader of Eficode's UX research team. After I visited the company and had a chat with them, the case was clear. We get to do all kinds of things here. Training, lecturing, and obviously accessibility analyses."
What do you think are the most wretched accessibility problems?
"I think the worst kinds of problems are the ones related to public services, as people simply have to be able to use them. A while ago I had to use this public administration service, but it had been so poorly designed that I could hardly do anything. I was close to throwing my laptop against a wall.
Many online services related to studying also take up a lot of time or are impossible to use. It is annoying when you have to start solving issues related to accessibility when all you want to do is get finished with what you were set out to do.
Some of the problems would be so easy to fix by a little bit of work, such as changing metadata to say something like "this is a button" or including alt texts to the correct, critical places.
Training online service developers and designers is definitely the most efficient way to respond to accessibility problems. It is better to create services that are accessible right from the start instead of producing a service that you have to later fix to be accessible. Of course, you also must always test or analyse service accessibility. That is the only way to make sure that everything is in good shape."
The most typical accessibility issues that you should start with:
Make sure that your site can be fully accessed with a keyboard and that users are able to see visually which part of the site they are using.
Provide text descriptions of essential images and icons.
Always prioritise using native HTML elements for presenting content.
Group form elements with their labels.
Use landmark elements consistently to identify the different content sections at the website (navigation, main content, bottom tab bar etc.).
Use headings in a logical order, ensuring that heading numbering corresponds to content structure (e.g. main heading h1, subheading h2 etc.).
Check that there is enough contrast for texts and graphic elements.
Make sure that your error notifications are accessible with screen readers.
What have you found most rewarding in accessibility?
"Let's say there is some really shady accessibility problem that is not that easy to pinpoint, and then you are able to come up with a solution to that. That is highly rewarding. I definitely have this sort of a solutions-oriented coder-engineer streak in me."
What would you like to say to those involved in designing online services?
"You have come a long way once you have mastered the basics of HTML. It is surprising how common it is that some very basic things are not in order. Go back to basics."
And what would the accessibility expert like to say to those purchasing services?
"Demand accessibility. We are still at a point when not all digital service suppliers automatically provide you with an accessible service."
How about accessibility and usability, what is the relationship between the two?
"The areas somewhat overlap. But creating a service that is technically accessible does not automatically make it particularly usable. These are two aspects of designing services that complement each other. Accessibility provides usability for all."
What about hobbies, what do you like to do in your spare time?
"Music is close to my heart, and I play renaissance lute, mostly as a solo instrument. I also craft a lot. I am also into track and field sports. My record for 100 meters is 13.26 and for long jump is 4.51 m. In long jump, I have finished fifth in the world championships a few times. At the 2019 Para Athletics European Championships in Berlin, I took home a bronze medal in long jump and gold in 100 meter sprint."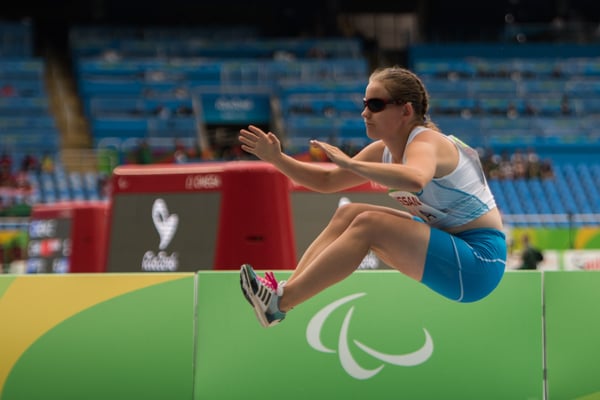 Published: December 14, 2020
Updated: June 9, 2021