Our May release of Bitbucket 8.9 is mostly about control – there are new repository management controls, global SSH key policy controls and even a new version of the Control Freak plugin. Yes sir-ee, we are in control.
Compliance through stricter controls
Many organizations have compliance needs to meet, and the tools used for software development don't get the benefit of the doubt.
To help you meet with the compliance and security standards, this release of Bitbucket delivers more controls to mitigate some of the whodunits of the past.
There are tighter controls available for the repository settings. Project admins can now take away some of the repository admin privileges by setting up change restrictions in the project settings.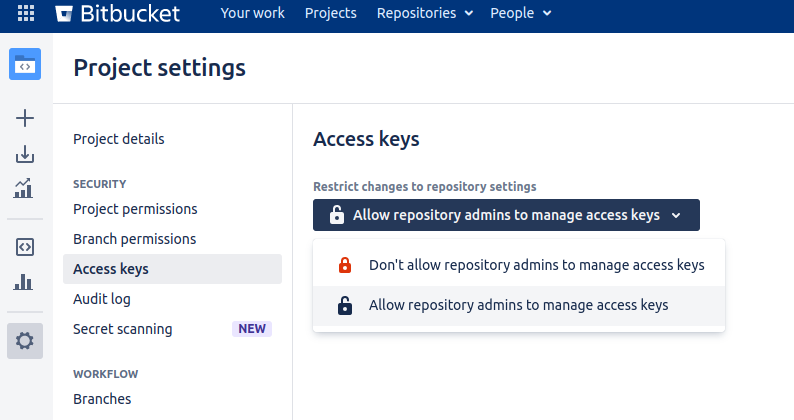 Restriction options shown for Access keys in Bitbucket 8.9
New restriction options are available for Access keys, HTTP access tokens and Project permissions.
Please see the Bitbucket documentation on atlassian.com for more information on using these new restrictions.
More control over SSH keys
In addition to the new repository settings restrictions, there are also new global policy controls available for SSH key management. All intended to keep Bitbucket compliant with your organization's requirements.
You can now enforce the use of specific SSH key types and mandate minimum key lengths. This conveniently allows you to ensure that no weak keys are used with Git authentication.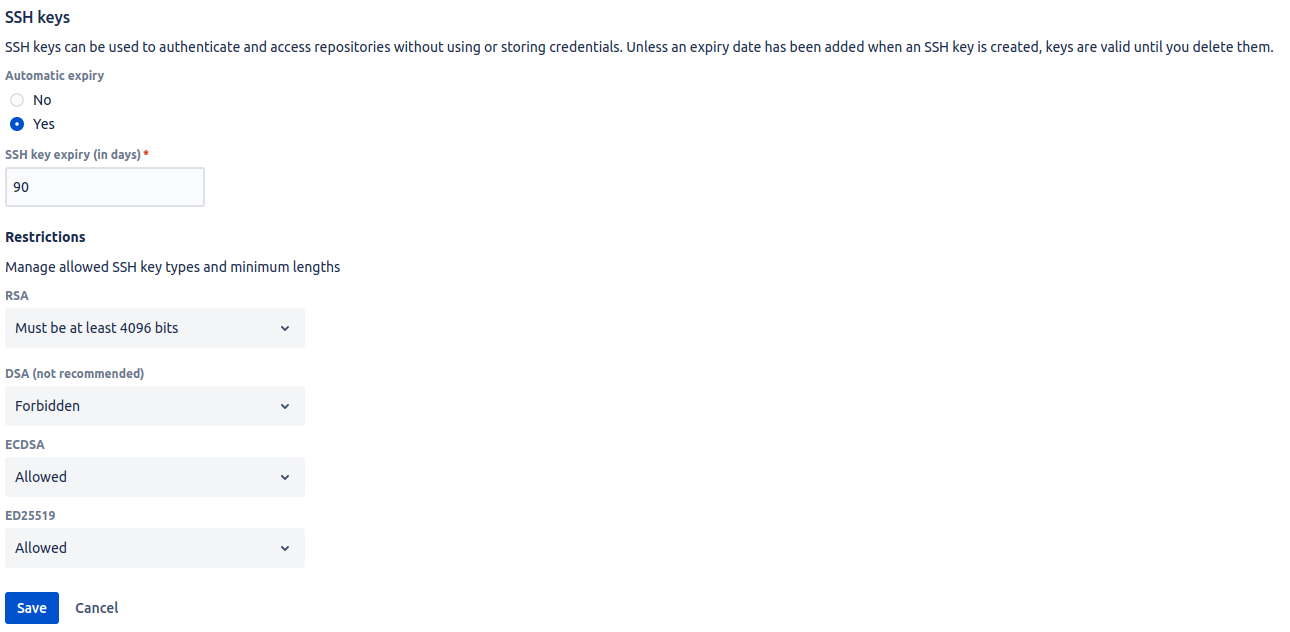 Global settings for SSH keys in Bitbucket 8.9
There's also a new feature anticipated by some organizations: enforced SSH key expiration.
A system administrator can now enable global expiry for all SSH keys, requiring all keys to be renewed after a certain number of days. However, given that the setting also applies to all existing keys as well, we would highly advise against enabling it haphazardly.
If you would like to enable SSH key expiration in your Bitbucket, please reach out to your friendly Eficode ROOT support before embarking on such a journey.
Project-level webhooks
Starting with this release of Bitbucket, you can now create webhooks on project level as well, in addition to the repository-level webhooks of earlier versions.
You can now avoid having to duplicate the same hook across multiple repositories by simply setting them up on the project level, improving efficiency when operating automations at scale.
Check out the documentation on Bitbucket webhooks on atlassian.com for further details.
Plugins
Naturally there's also a round of plugin updates to go with the new Bitbucket version. Find our highlights below.
Control Freak - Commit Checkers and Jira Hooks for Bitbucket
The Control Freak plugin leaps directly from 2022.12.06 to the latest version 2023.04.15.
This update delivers multiple bug fixes to correct annoyances in the previous version:
Pull Request screen will not put out IllegalArgumentExceptions anymore when "require # approvals" control is enabled.
The "rebase-and-merge" and "rebase-and-fast-forward" merge options now appropriately honor the "Ignore Clean Rebases" Jira Policy setting.
And there's a small preventive fix to guard against long "git log" invocations.


Include Code Quality for Bitbucket
To complement the new SonarQube Current also delivered with our May release, we'll naturally include the latest version 6.1.0 of Include Code Quality for Bitbucket as well.
In addition to implementing support for SonarQube 10, this release also now includes support for SonarQube installations with SSO authentication only.
Security for Bitbucket: Enhanced Secret Scanner by Soteri
With the update to version 4.4.0, the Security for Bitbucket receives a number of welcome updates:
AWS Client ID scans now produce less false positive findings.
Unexpected exceptions are now handled and reported in a more robust manner.
There are general improvements to the UI and the appearance of finding has been streamlined on the branch scan report.
Published: May 3, 2023