Every year more than 40,000 take the step and realize their dreams of living in Stockholm. You have a great choice of entertainment, food, sports, music, and culture here. Stockholm is an extremely beautiful city and very multicultural too. Here are 10 tips for living in Stockholm.
Hi! It's Irina here. This blog was written by Vivian Chiha, who was a trainee at Eficode's Stockholm office as part of her Business Administration and Information Technology degree at Stockholm University. Hope you enjoy it!
1. Polish your social skills by seeing things from the perspective of others!
One of the most important ingredients to reach happiness in your life is community and meaning. Those two things can actually be hard to come by in Scandinavia, especially in Stockholm as a big city with all the anonymity that big cities bring.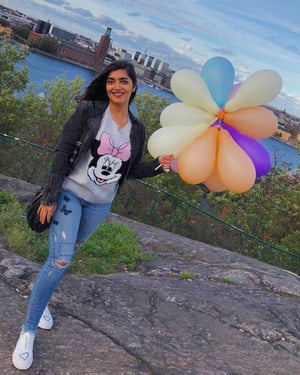 The key is to find a balance between looking out for your own needs (whether that be your career or the best seat on public transport) and the needs of others.
Politeness and tactfulness are the first principles in Swedish society. Do you say "Good morning" when you come to work and "Bye" when you go home? Do you greet the cashier in the grocery?
For example, here in Stockholm the norm in the escalator is that the person that would like to stand still stands on the right and the one who is in a hurry passes by on the left side. If you've made a mistake by standing on the left side, say 'forgive' or 'sorry' and don't get angry!
Another typical Swedish example here is having strange Swedish neighbors that, when you greet them or say good morning, don't even answer. Well, don't give up: always greet with a big smile on your face, they'll learn to greet back, trust me, I have been through that!
2. Challenge yourself and invest in personal growth!
Program your brain by exposing yourself to things that you find difficult. Dare to take that tough meeting instead of sending an email or a text. Sweden has a lot of free courses you can take for example in cooking, IT learning, cleaning. There are even courses just for encouraging you to speak!
The more you have a store of capacity in many different areas the more you'll succeed in Swedish society.
3. Staying healthy is a big part of being a Stockholmer
Swedish people actually work out the most out of everyone in the EU according to the Eurobarometer. More than seven out of ten say that they exercise regularly. The EU average is just under five out of ten.
The typical Swedish weather is another factor here. The difficulty of daily work life and the lack of movement, sunshine, and vitamins that bodies need, means working out plays a major role in everyday Swedish life.
Working out helps Swedes get over their work stress. People even cycle when it's minus twenty degrees outside!
4. Learn Swedish to delve deeper into Swedish culture
Almost all Swedes are extremely proficient in English.
That being said, learning Swedish is called the road into Swedish society. Politicians state that Swedish is needed whether you're working or studying. That's because most jobs in Sweden require that you master Swedish well enough to feel part of the work community.
To feel at home in Sweden, you have to speak and understand Swedish, the language that unites the people. Learning Swedish has the added bonus of helping you to understand Swedish humor!
5. Money isn't everything, even in a city this expensive
Don't be fooled by how plush Stockholm is or by the Scandinavian prices. There are plenty of things you can do on a dime!
Even the big city of Stockholm has a lot of surrounding nature and we all know mother nature doesn't charge an entrance fee. There are also a range of free museums for you to visit in Stockholm.
For more on free activities to do in Stockholm, look no further than this website.
6. Get involved in sustainability
Sustainability is a big trend in Sweden. Get involved with reducing food waste and recycle (even if only to avoid the fines).
7. Stress is as harmful as smoking
Eat right, exercise, and socialize: honour those three things! But as a wise person once said, it is in the breaks that everything happens. Therefore one should not underestimate recovery, relaxation, and rest.
You see, 9/10 Swedes say that they work on the train home or say they take their job home with them.
Instead, become a weird superhero for a day! Go out with people who challenge you! Start playing a musical instrument! And don't take your work home with you!
8. Searching for jobs can be a job in and of itself
Getting your foot in the door in the Swedish job market is the first step, as the further you are on your journey, the more you will be pursued by recruiters.
They love to know that you are knowledgeable in many different areas. The most attractive thing is that you are cultured and able to discuss whatever topic they can ask you about, especially when you are in a job interview (more on that in the next point!).
Get into a routine, check job listings, call around and check if someone you know has heard about an available job. Keep learning during your search and you will get a job sooner or later!
9. Start to think of interviews as dates
Keep in mind that the interview is not a questioning! Swedes may look very serious and barely laugh. Well, just show them your teeth and your confidence and they will hire you! See it as a first date where you will see if you both fit together or not.
Many look forward to the employment interview as much as they would to a third-degree police interrogation. But take it easy!
10. Never say no to afterwork!
A fixed part of Swedish work culture is colleagues in your department organizing some kind of get togethers after work. They might be at a bar, at a bowling alley, or at a restaurant.
When it comes to these opportunities, why not give it a go? Ok, so an afterwork with the job gang may not be as relaxing as an afterwork with your friends. But you may be missing out on getting to know your colleagues outside of work and their glorious personalities.