The world is changing faster than ever due to megatrends such as globalization and digitalization. To stay in business, you need to evolve.
Look no further than the S&P 500, where the average lifespan has come down drastically during this century.
To avoid the same destiny, if you are like most companies, at some point you need a fork-lift operation — a transformation to a new way of working. The transformation you need comes in three layers:
Efficiency

Innovativeness

Monetization
Below, I will show you what they mean and give you a birds-eye view of how to pull it off successfully.
Efficiency layer: shifting gears in development and delivery
In the old world, you only had to launch a new product once a year. Today, products might get updates several times a day. That obviously applies mainly to digital services over the internet, but as software becomes more of a driver across all industries, you can see the change everywhere.
The Agile way of developing software, with short iterations, was the first step of the efficiency transformation.
Soon after, advanced companies realized that to get full efficiency benefits, you need to combine iterative development with continuous integration and delivery all the way to customers. DevOps was born and the feedback loop from the customer back to development became much shorter. A new level of efficiency, especially for online services, was achieved.
This race to more efficient development won't stop, as we move more towards cloud-based services, and digitalization also reaches new business domains.
An industry such as construction will never be completely digital, but digital twins and 3D printing are good examples of how software-based technologies are changing the game and forcing companies to transform.
Innovativeness layer: from a project to a product mindset
Sometimes putting too much effort into efficiency turns against itself.
Today, you don't win by offering the most features. You win by being the best at understanding what your customers need and combining the latest technology with an excellent customer experience. And for that, you may need to transform from locally optimized and siloed efficiency, to cross-functional cooperation.
One of the reasons why startups are more innovative than established companies is the focus on outcome instead of output. When your company's very existence depends on the success of the product, you have a clear common goal. Although efficiency is important, it is even more important that the whole company works together on solving the right problem with the right solution.
Stay away from detrimental goals and incentives
The two biggest challenges in established companies are:
organizational structure with local incentives

budgeting
Often different functional parts of the organization are divided into their own siloes that are expected to work as efficiently as possible. Goals and targets are set to optimize the local output, which does not encourage cooperation with other parts of the organization. This reduces innovation.
Budgeting is also a common problem. The finance department focuses on cost control — on low and predictable spending. The annual spending budget for R&D and IT is still too often a sum of predefined projects and tasks. The less you need to change, the better for the finance department.
This obviously leads to an inside-out type of working instead of real customer orientation. Following the plan becomes more important than reacting to new needs or changing priorities.
Tesla is said to do budgeting with AI on a daily basis. The calculation is done based on the value the company is providing divided by costs. This may be a tall order for many companies that do yearly or even multi-year budgeting and allocate it for different functional siloes.
But it is a good example of how focusing on value and being Agile at a company level affects innovation capability.
A product mindset is all about trust
To transform from a project-to-product mindset, you start with establishing product teams that have their own rolling budget and freedom to focus on outcomes instead of following the predefined plan.
This allows teams to focus on customer needs and steer the direction as soon as more data and knowledge are available.
Having a product mindset does not mean that customers are forgotten, but rather that market needs continuously drive the business and development. The teams' increased freedom also comes with more responsibility and a need to prove themselves. They do so with clearly defined KPIs or even with revenue targets, depending on the product type, team structure, and business.
Companies that transform from project to product mindset strive to continuously maximize the company's value streams.
Monetization layer: redefining the business model
This third level of transformation is about the business model. Competition has become global in many business domains. In those "red ocean" markets, companies with high volumes and low costs tend to win.
Even innovative solutions may not give you enough competitive advantage unless they are difficult enough to copy. Then the only solution remaining may be to change the business model.
Here are two examples.
Moving towards continuous services
One example of a business model change is moving from product sales to continuous services. Let's use Rolls Royce as an example.
It used to sell jet engines. The market became fiercely competitive, so it started focusing on making a profit from spare parts. But that was also too easy for competitors to enter, and Rolls Royce needed to transform once more.
The new phase includes the TotalCare© circular business model, which aims to achieve maximum flying availability by Rolls Royce, managing the engine through its lifecycle. The service is charged on a fixed fee per flying hour basis from airline companies. The new service aligns Rolls Royce with its customers' targets.
Moving towards services
It is also common to transform from being an equipment provider to a service provider. Equipment providers can collect data on how products are used, and use that data:
first for pre-emptive maintenance

in later phases to optimize or automate your customers' jobs-to-be done, by using the collected data together with AI.
These kinds of transformations are the most difficult ones, as they may last several years and require almost the whole company to change the way it operates.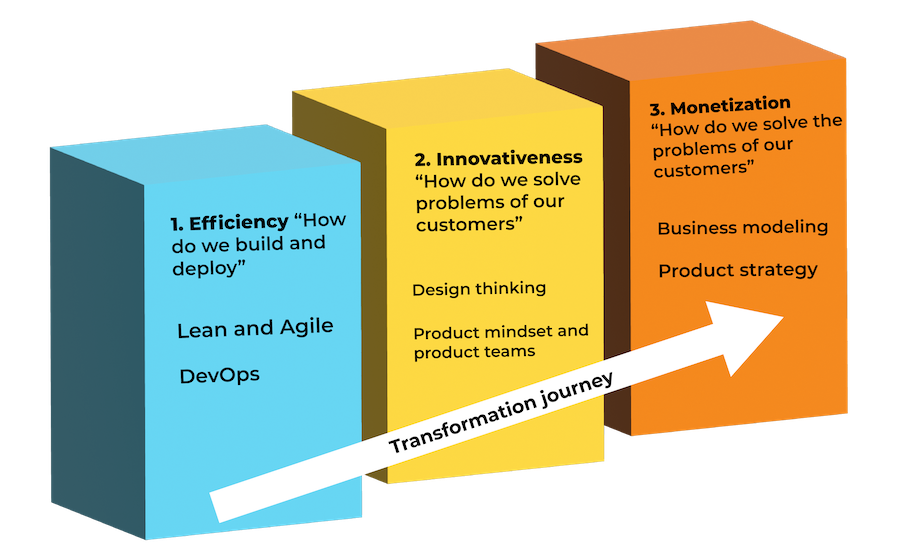 What you need for a successful transformation
No matter what kind of transformation or change program you need, the most critical ingredients are the same. You need to continuously improve along the way, but before any successful change can happen, you want to have the following in place.
Vision, targets, and incentives
First, and most importantly, you need a vision. An agreed-upon, clear description of the new state you want the transformation to lead to.
Once you have a vision, it is easier to set targets and ensure incentives are in place for all affected people.
Management buy-in
Many companies use Agile and Lean ways of working in some parts of the organization but fail to make a transition to a new way of working at a company level. The reason is often a lack of top-down support, or even an understanding of what benefits a transformation can bring.
For a successful transformation, you need enterprise Agile coaches and access to top management, especially in this third transformation layer.
Early success with champions
Many factors can slow down your transformation. Some people and parts of the organization can't change as quickly as others, and it can take time to see the benefits of the change.
Build momentum by celebrating early successes, and encourage champions to lead the way.
Dependency resolution
No team can make a full transformation by itself. You will depend on:
other teams

other business units

partners

customers' way of working
These are the main hurdles you need to overcome as soon as possible. Often, it is in these circumstances that you can tell how committed management are to the transformation.
Keep the ball rolling
Last but not least, it is important to ensure the transformation keeps moving forward and accelerating. Far too many companies expect that, when the transformation has started, it will happen by itself.
It won't, and eventually, new competitors will pass you left and right. Transformation programs require dedicated coaches that can push the organization and people over the hurdles and let them concentrate on customer value.
The megatrends that drive this rapid change across industries will not go away. Instead, the need for transformation in all layers is accelerating. How well is your organization keeping up?
Published: November 21, 2022