What Jira Work Management is
As more and more organizations turn to Agile, we also see a great interest in Agile from non-technical teams to embrace tools such as Jira. There is just so much value up for grabs in terms of synergies, and just generally simplifying work. And tools like Jira Work Management can help a lot.
Jira Work Management is a quite new member of the Atlassian suite. The product is mainly for teams outside of IT. Teams such as:
Human Resources
Accounting
Legal
Marketing
Finance
And other business teams
Next, we will look at the features that are different from Jira Software.
How Jira Work Management is different from Jira Software
Jira is a tool for working on tasks, keeping track of and following a project's status. There are three different products of Jira in the Atlassian cloud platform:
Jira Software (JSW) - for developers
Jira Service Management (JSM) - for IT-teams
Jira Work Management (JWM) - for business teams
There are great benefits of using Jira across the whole organization - by all teams. You only have one place to work on tasks and tickets, so it's easy to share status between teams, and to move tasks between projects in both JWM, JSW and JSM.
Since business teams work differently, and need different features, compared to for example software developers, Jira Work Management is created with useful views for non-technical teams.
Management can use summary view to monitor and follow up on project status in all teams across the organization.
Jira Work Management and Jira Software are almost the same, but differ in some notable ways.
Items vs Issues
Issue types are called Items in Jira Work Management and issues in Jira Software. You can move items/issues between the different products of Jira.
Customize your project
You can configure your Jira Work Management project in your favorite color. There are 14 different colors to choose from. In Jira Software and Jira Service Management, the projects are all white.
Use ready-made templates
In Jira Work Management you can choose to use pre-configured templates to set up the project, with workflow and issue types.
Built in views for different purposes
Listing items in an Excel like view and work on your daily work items in a board view. Jira Software boards include more features, like quick filters, card colors and swimlanes, but in Jira Work Management you can also plan for upcoming events in a calendar or viewing dependencies between items in a timeline view.
Reports track status and not lead/cycle time
Reports in Jira Software are more connected to lead and cycle time, while Jira Work Management reports are more based on counting items to track status.
Synchronous collaboration
Last but not least, with Jira Work Management's collaborative mode functionality you can invite other users to work on the same project items at the same time. This is not possible in Jira Software.
Next, I will walk you through the different views and other features that are exclusive to JWM.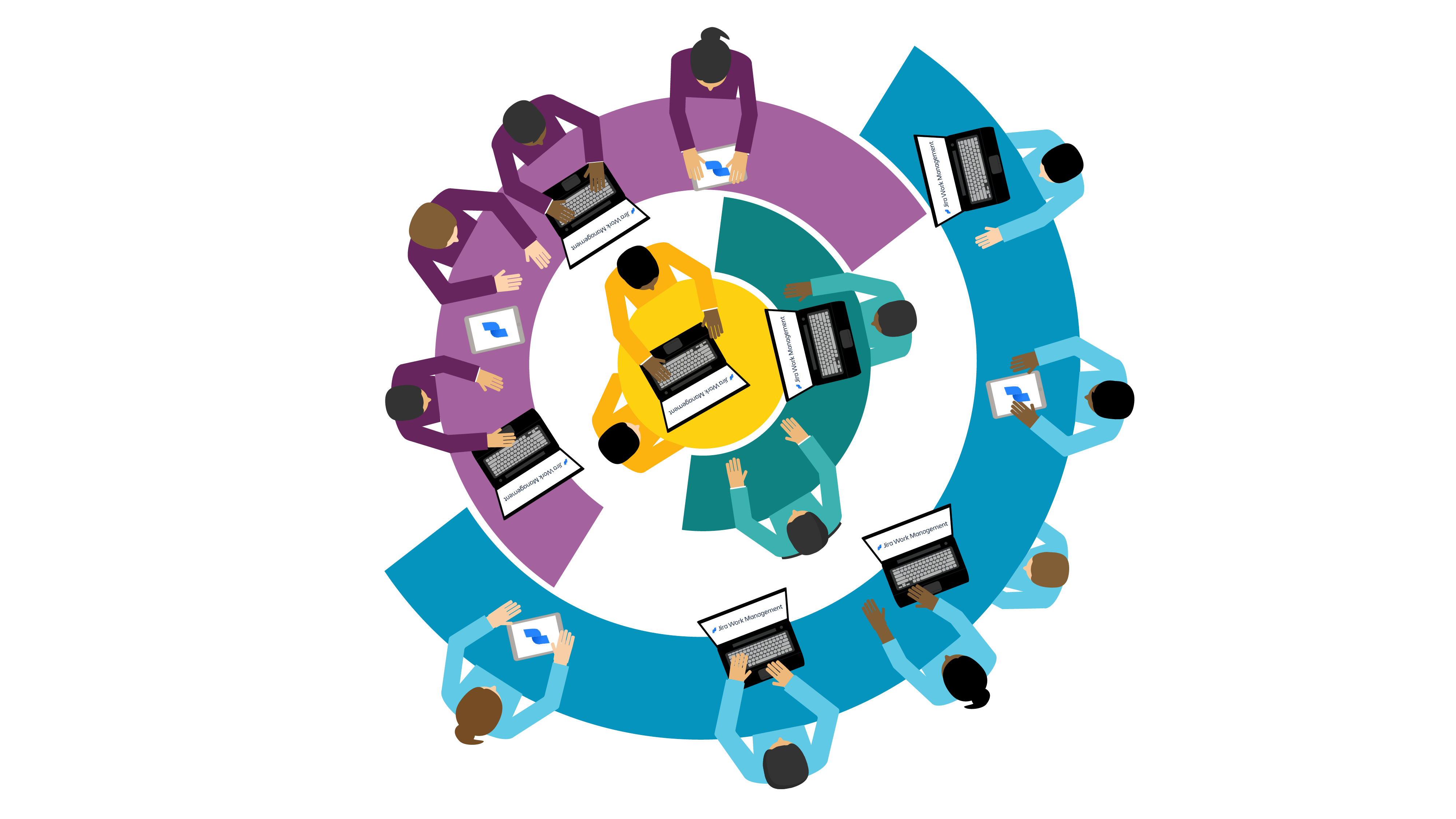 6 features in Jira Work Management that you don't have in Jira Software
Besides the differences I mention above, let's look at some of the nice, key, features in Jira Work Management that you can't find in Jira Software as per today:
Summary page: a one-page overview of the project status in Jira.
List view: a spreadsheet on steroids, boosted by the power of Jira. You can for example use in-line editing to edit field values connected to your items.
Calendar view: view and manage tasks across time and schedules to hit your deadlines accurately. Also see what is planned for a few weeks ahead.
Board view: track work all the way to completion through your team's custom workflow that was set up when the project was created. View more fields on the cards on your board in a click, and visualize priorities, labels, issue types and more, more clearly.
Timeline view: your team plans and works with dependencies to allocate work and map out larger projects. Status colors show, for example, as colors in the timeline.
Form builder: create multiple forms in any JWM project to collect design requests from outside of Jira. Forms make it simple to share project requirements across teams.
The forms we refer to above, you can use to:
Help people outside your immediate team create new issues
Submit work requests for your team
Collect the right information for your team
So, should I choose Jira Work Management or Jira Software?
Would your team work in a Jira cloud instance, and are not developers or used to the scrum framework?
Then the Jira Work Management is more easy and familiar. And you can use the list view to collaborate in your team, and update items with attributes, for example during workshops. You have everything in one project and you can work in the different views connected to the JWM project.
External users can use the forms to create requests for your team, and management will have an overview of the project status in the summary view. For long-term or short-term planning, you can use calendar or timeline views to get an overview, and also to track dependencies.
Summary
List view
Board view
Calendar view
Timeline view
Forms
You create your first project using one of many project templates and in a few minutes you have a project with a specific workflow and issue types, and can start working immediately.
When you are more familiar with Jira and need to structure your work more in products instead of in your team, you can connect your tasks to a Jira Software project, kanban or scrum board to use more boards in a more Agile way.
In short, Jira Software is a little bit more advanced than Jira Work Management, so it depends on your previous knowledge of the product, goals and processes.
Besides this: Jira Work Management is also compatible with Jira Align and Advanced roadmaps.
Hopefully I have provided some clarity on what JWM is and how it differs from the other Jiras. Maybe you should give it a try.
Published: August 2, 2022