Hear an inspiring success story from the finance sector
In highly regulated industries such as finance, both security and compliance are key. Agile methods, self-organizing teams, and daily releases might seem to be only for unicorn companies. But in this webinar, you will see how DevOps practices and tools actually help you integrate security and compliance requirements in your software development.
Bankdata, Eficode's customer, will share their DevOps journey and tooling choices. Join this webinar and hear the success story of Bankdata with Eficode ROOT!
Agenda
DevOps is usually hyped as a method to increase development speeds, but what if we told you it could be the key to ensuring security and compliance in your organization? This presentation will share how DevOps can improve your security posture and process conformance while helping your teams deliver faster. It will cover:
how to be as flexible as possible while staying within the boundaries set by the compliance and security rules
which processes need to be managed centrally, and what decisions to delegate to teams
how to automate security scans, security testing and make them part of the CI/CD
how to think about tool and cloud platforms
how to create visibility and transparency across the organization
Bankdata has been on a journey to adopt an Agile mindset for the last ten years. A natural progression was to mature the agile mindset into a DevOps mindset. Bankdata started to mature this roadmap a few years back, adding self-hosted DevOps tools to the toolchain, as well as improving transparency on cost, product deliveries, and processes.
Having a DevOps mindset is now becoming essential at Bankdata, and a logical evolution is to offer transparency, self-service, and cloud-ready tools to the developers while keeping Bankdata compliant and secure in the heavily regulated financial sector of Denmark.
Off-the-selves tools are boosting our productivity as well as offering guidelines on how to maximize the outcome, but tool management has proven to be difficult. This is why Bankdata started two years ago to look for SaaS suppliers to deliver a fully managed toolchain, where compliance and security were just as important as the tools themselves.
In this presentation, I'll share:
Bankdata's DevOps journey
why we chose Eficode ROOT
our expectations going forward
Speakers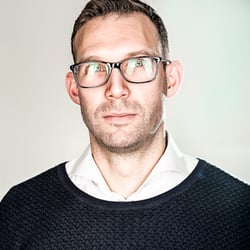 Mike Long
Technology Director at Eficode
Previously Mike was CTO at Praqma where he assisted many companies in regulated industries with compliance and DevOps strategy. Mike spent 10 years in product development and has experience delivering software in various cultures and industries. He helps organize several community events and conferences. Mike is a trustee on the cyber-dojo foundation.
Jesper Bæk Eriksen
Senior Domain Architect at Bankdata
Together with 30 other colleagues, Jesper provides developer tools and runtime platforms to 500 developers of Bankdata. He has worked 16 years in the financial sector, mainly as a Java developer and solution architect, specializing in application security, integration, and lately maturing a DevOps mindset in Bankdata.
Fill in the form to watch the free webinar