Facing security threats with DevOps practices and tools
Most organizations are stuck in their DevOps evolution after getting the basic building blocks in place, and security is often left behind. However, software supply chain security has become a major concern at the highest level of any organization. Today, security should not only be built into your DevOps pipeline, but it can be inherent to your practices and processes. That's DevSecOps.
Avoid the pitfalls and one-size-fits-all solutions
People, processes, and technology - we use our decade of expertise and experience to find solutions for your organization. We have been delivering more than 200 technical assessments and due diligence projects to our clients.
Know your stance and get a roadmap to guide you forward
Understand the state of your security capabilities
Baseline your current software delivery and operational performance with regard to security. And benchmark against industry best practices.
Get a future-proof plan
Receive actionable insights to invest in the right initiatives, and drive your DevSecOps improvements.
Create a common understanding of security and compliance
Get everyone in your organization on the same page about DevSecOps and continuous compliance.
Get clarity and a future-proof plan with a DevSecOps assessment
The DevSecOps assessment covers your company's full software supply chain security. People, processes, and technology.
What to expect:
A kickoff workshop to align management and key stakeholders
Interviews of 8-14 persons on the scope of the assessment and review of the architecture.
A round of comments with different stakeholders to finalize the assessment
A presentation of the report and roadmap recommendations.


What you'll get: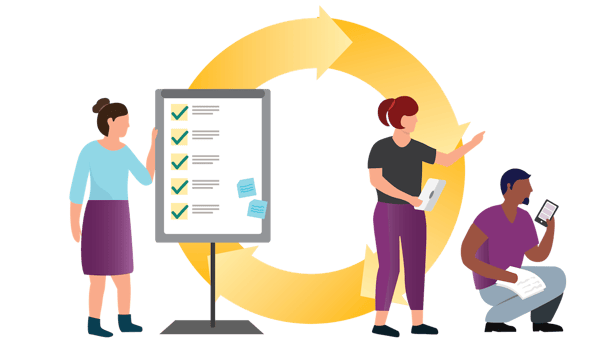 A report of your current state
We will deliver numeric capability scores, a benchmark against other companies, and a detailed breakdown of capability levels in 10 subcategories.
Key findings and recommendations
Based on the interviews, we will share our findings and concrete improvement recommendations.
Next steps and roadmap
We provide you with a roadmap containing a suggestion of the execution order and schedule for the improvement recommendations.
Learn more about DevOps:
If your toolchains are in place and functional, and you're looking into the future. You want to know how to secure your pipelines, toolchain, and products both now and in the future. Invest in your own secure sustainability.
Expanding upon our experience with the DevOps assessment, we noticed a potential to bring not only our DevOps expertise but our security knowledge to those who might have forgotten to put the "Sec" in their DevOps.
A typical assessment takes between 4 and 8 weeks. The actual time required from the client is about 2.5 hours per person involved in the assessment.
The price depends on the scale of the assessment (number of interviews and teams/products involved). Contact us to get a quote for your organization.