Like most organizations, you probably need to deliver IT services ever faster, of higher quality, and at a lower price. And you are expected to do this with the same resources as before.
If you can pull off this magic trick, it's not going to be by using the same processes and support systems as before.
In this blog post, I will show you how this is done by using the ITIL® 4 framework and by having the right ITSM tool. By focusing on these two factors, you will have control and a complete overview of your IT deliveries.


Create a good structure with ITIL® 4
The ITIL framework (IT Infrastructure Library) is owned by a company called Axelos. Appearing in the '80s in the United Kingdom, ITIL has grown to become one of the world's most used frameworks for IT deliveries. In 2019, they made major updates to it. It became extremely topical, as they incorporated the components Lean, Agile and DevOps.
The primary purpose of the ITIL framework is to bring good order to your deliveries, and give you control based on quality, reliable services.
ITIL® 4 consists of 34 practices. Referring to the terms below as "practices", signals that this framework is a bit more "relaxed" when it comes to these activities within processes.
Few organizations implement all 34 practices, and you should only introduce the ones that are relevant to your organization's current situation.
The 34 practices are: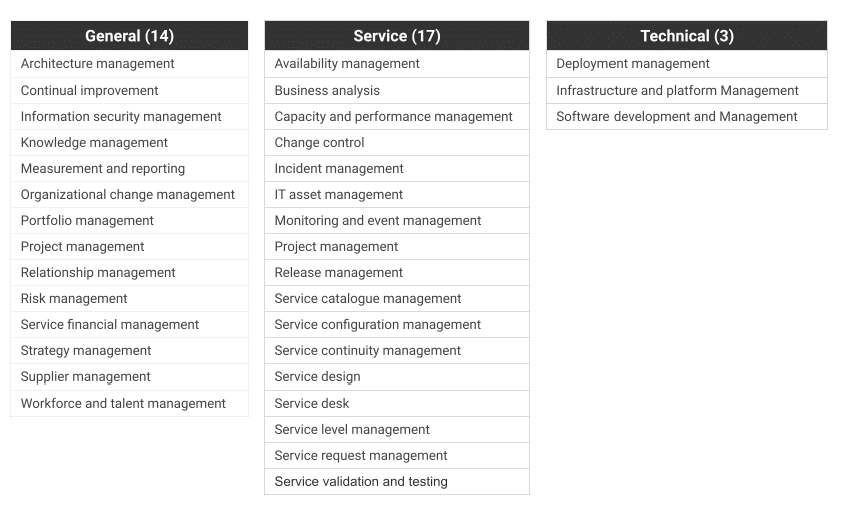 ITIL® 4 has seven guiding principles that lean towards ways of working in Lean, Agile and DevOps. These principles promote cooperation, simplicity and feedback, and it is always good to keep them in mind as you deliver your various services.
The 7 guiding principles are:
Focus on value
Start from where you are
Iterate with feedback
Cooperate and be transparent
Think and work holistically
Keep it simple and practical
Optimize and automat
Take control with the right ITSM tool
Traditional ITSM system support is usually built for siloed organizations. This makes it almost impossible to have a good picture of what is happening in IT delivery, let alone from different perspectives.
With a correctly set up ITSM tool, decision makers and others involved can access the right data, at the right time, with the right view.
A great example: Jira Service Management
There are many advantages with Atlassian's ITSM solution, Jira Service Management (JSM).

Modern incident management, flexible case management and, above all, the work is made visible and available for multiple teams in the organization. Jira Service Management provides multiple departments in the organization with a view of the work and deliveries taking place within the entire company.

Together with other integrated Atlassian products and applications from Atlassian Marketplace, teams and decision makers can obtain all the information necessary to make well-informed decisions.
Jira Service Management contains what most organizations need to manage their service deliveries and at a fraction of the cost of other support systems. Forrester has calculated an ROI of 246% for Jira Service Management.
In summary: The ITIL 4 framework + the right ITSM tool = just the right conditions
ITIL 4, together with a well-working ITSM tool, gives you better control of your IT delivery. In the end, this translates into a better customer experience. With this framework, you all speak the same language.
With the right ITSM tool - we recommend Jira Service Management - your teams can visualize work from the entire organization. You build transparency, and with that you get better cooperation between activities, development teams and IT teams.
In the end, you can have what you wanted all along: to deliver higher-quality products, faster.
Published: August 16, 2022
Updated: July 25, 2023