The month of April will set the stage for the second act of our unusually two-part Atlassian Rollout. This time around it's Jira that gets to be the star of the show, accompanied by other favorites from all across the Eficode ROOT portfolio.
The spring is here with a fresh Jira. As we mentioned in our previous post, a lot is changing under Jira's hood. But that's not all! This release is packed with all sorts of goodies as well.
Data Center bundle of joy: Advanced Roadmaps
Advanced Roadmaps (formerly known as Portfolio for Jira) is now bundled with Jira Data Center subscription.
Advanced Roadmaps is a powerful planning tool that utilizes gantt charts (think MS Project) to allow you to schedule and track work across multiple projects and teams. Advanced Roadmaps accesses boards, projects, and filters to visualize all of the data in a customizable interface.
Support and updates for Advanced Roadmaps on Jira Server will be available until 2023. From that point on, it will only be available with Data Center subscription.
Curious? Wondering where the road might lead to? Let us know and we'll be more than traverse Advanced Roadmaps with you!
Email template management simplified
In the olden days changing the default email notification contents in Jira Software was difficult and required hacking all sorts of stuff on the server side to make it happen. Not anymore! You can now download the email templates directly from Jira, make all the modifications you would want to, and then simply upload them right back to Jira.
In other email news, the email notifications also display image attachments more securely and consistently. Images in Jira notifications now include a security token, which allows users to view the images via the notification for up to 7 days. These attachments can of course be still viewed on the issue in Jira even after the token expiration date.
Navigate to the guide for Customizing email content at atlassian.com for further instructions.
Personal access tokens for all
As was the case with Confluence, this update of Jira will bring Personal Access Tokens for Jira as well.

This will make all sorts of automation and integration with Jira REST API more safe and secure by allowing the use of a separate, revocable and managed access token, instead of the previous username and password combination.
Tokens can also be configured to expire on a certain date, and you can of course have multiple tokens active simultaneously.
Once a user account is set inactive or deleted from Jira, all access tokens associated with it will automatically get revoked.
Jira Administrators have the possibility to apply rules on Personal Access Token use, by setting a limit on the number of tokens people can create and by enforcing global expiry rules for all tokens created by users.
Check out Atlassian's guide on Using Personal Access Tokens at atlassian.com.
Other changes
Accessibility improvements continue
Atlassian has continued their journey of making their products more accessible. This time around the attention has revolved around the Create issue flow. It is now possible to navigate seamlessly through the process with a keyboard only, and the flow is also more screen reader friendly.
Bamboo Plan selection in Jira
If you are using Bamboo with Jira, you can now choose which branch of your plan to run when releasing a version in Jira.
DCVS connector improvements
DCVS connector is a tool, which allows viewing version control development information on Jira issue screens. In addition to previous Bitbucket and GitHub support, you can now connect your Jira to GitLab as well! Hooray!
There are also numerous overall performance improvements in polling mechanisms, handling stuff in background threads and that sort of stuff, as well as several smaller improvements in the UI, keeping things nice, quick, and responsive.
Quick view for issues in epic
Atlassian has added the Issues in epic section to the Kanban board issue details view.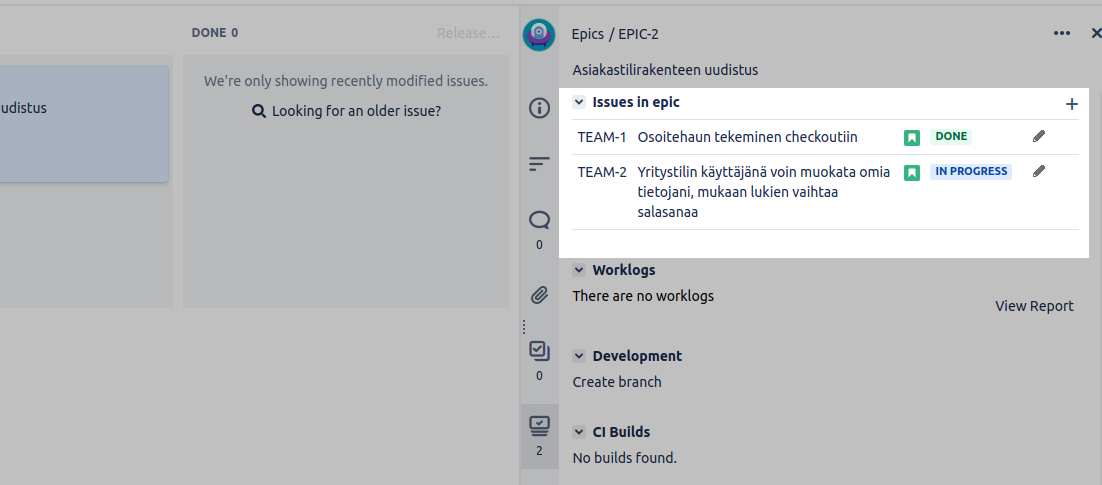 Before you would've had to navigate away from your board into the regular issue view to the list of issues belonging to the same epic. Not anymore.
Noteworthy changes in the Jira ecosystem
Agile retrospectives for Jira
Added the capability for switching between different retrospective formats.
Bulk Clone Professional for Jira
Added support for remapping Test Pre-Condition(s) & associated Test(s) created with Xray Test Management for Jira.
draw.io Diagrams for Jira
Changed diagram format so it's easier (and possible to begin with) to import them to Jira Cloud during a migration.
Exalate
Setting up a new connection has now been simplified with visual mode, which means you no longer have to write a script to set up a connection! Check out the instructions at idalko.com.
Links Hierarchy
Added capability to track boards. More details and instructions can be found at Kintosoft Confluence pages.
Refined for Jira
Can now display SLA information on JSM request view.
Possibility to display default request type to aid customers in selecting what kind of request to create when their search does not provide any results.
ScriptRunner for Jira
ScriptRunner has received Slack integration support, making it easier to access Slack resources and actions in your scripts. See documentation for Slack Connection at adaptavist.com for details.
Structure
Fix version and sprint details can now be shown in the Summary column and used in formulas.
Option to show names, avatars or both in user columns.
Perspective sharing via email directly from a Structure view.
It is now possible to update the Team field from Advanced Roadmaps using the Attribute to Issue Field Effector.
SynapseRT
New custom fields to show SynapseRT related statistics:
Test Case: showing 'Test Case' information from a Requirement issue
Requirement: showing 'Requirement' information from a Test Case issue
Parent Requirement/Child Requirement/Requirement Suite: showing additional information from a Requirement issue
Execution Count: showing the number of times it is executed from a Test Case issue
Tempo Timesheets
Changed behavior of how a team is represented in CSV exports and REST API GET calls. Team is now shown as name rather than ID in both.
Zephyr Scale (formerly TM4J - Test Management for Jira)
TM4J - Test Management for Jira has been acquired by Smartbear and the plugin has been rebranded to Zephyr Scale. The functionality remains the same.
For more information, see Atlassian's release notes for Jira Software:
Jira Software 8.14.x release notes at atlassian.com
Jira Software 8.15.x release notes at atlassian.com