Continuing the tradition of innovation that is the Atlassian Rollout. August is now the month of Jira, with Confluence soon following suit in September. We've got all sorts of goodies up our sleeves come autumn again.
Atlassian steps up Jira's game on multiple fronts -- features, performance and security.
Configurable default values for Description field
Jira Data Center only
This release of Jira introduces the possibility for configuring default values for the Description field. Admins can add and apply contexts with a default value to multiple issue types and projects.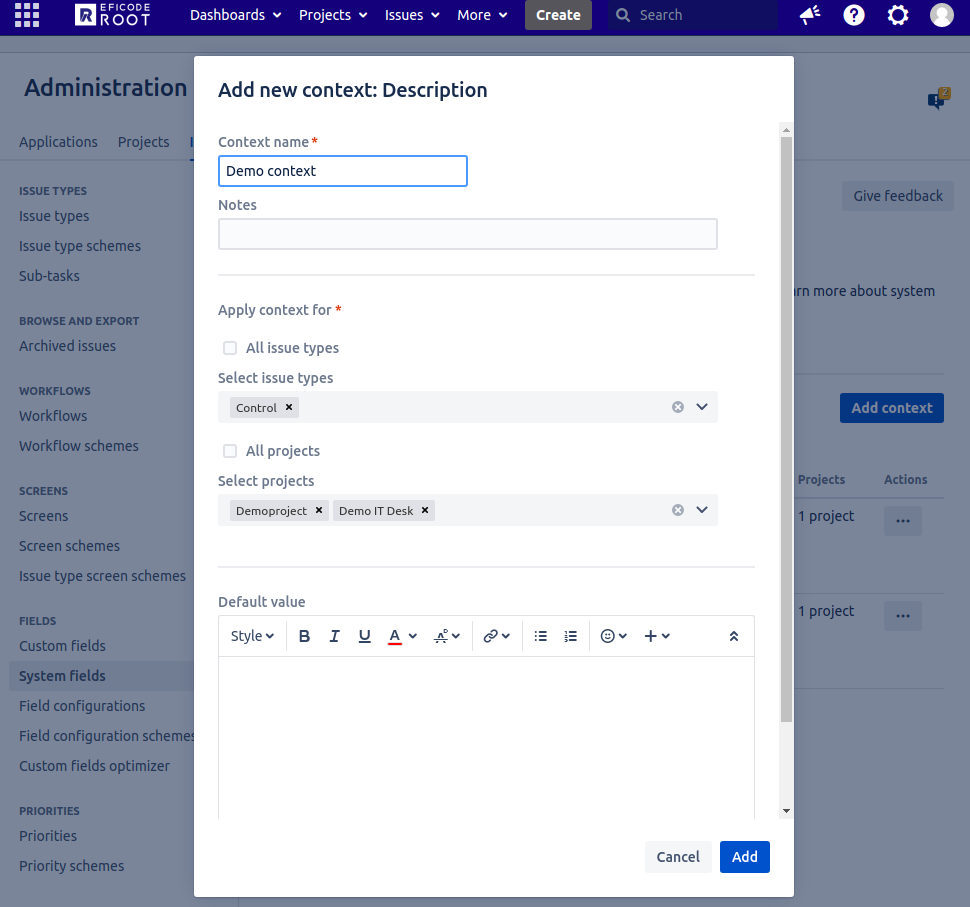 There's a new page in the administration area for the system fields to group out-of-the-box Jira fields. For now, you can add and apply different contexts with default values for the Description field. For all the other fields, you can easily find the screens they are associated with, and make modifications if needed.
Learn more about Managing system fields at atlassian.com.
Keeping your custom fields in check
Jira Data Center only
This release of Jira will add two new columns, Issues and Last value update for your custom field administration view.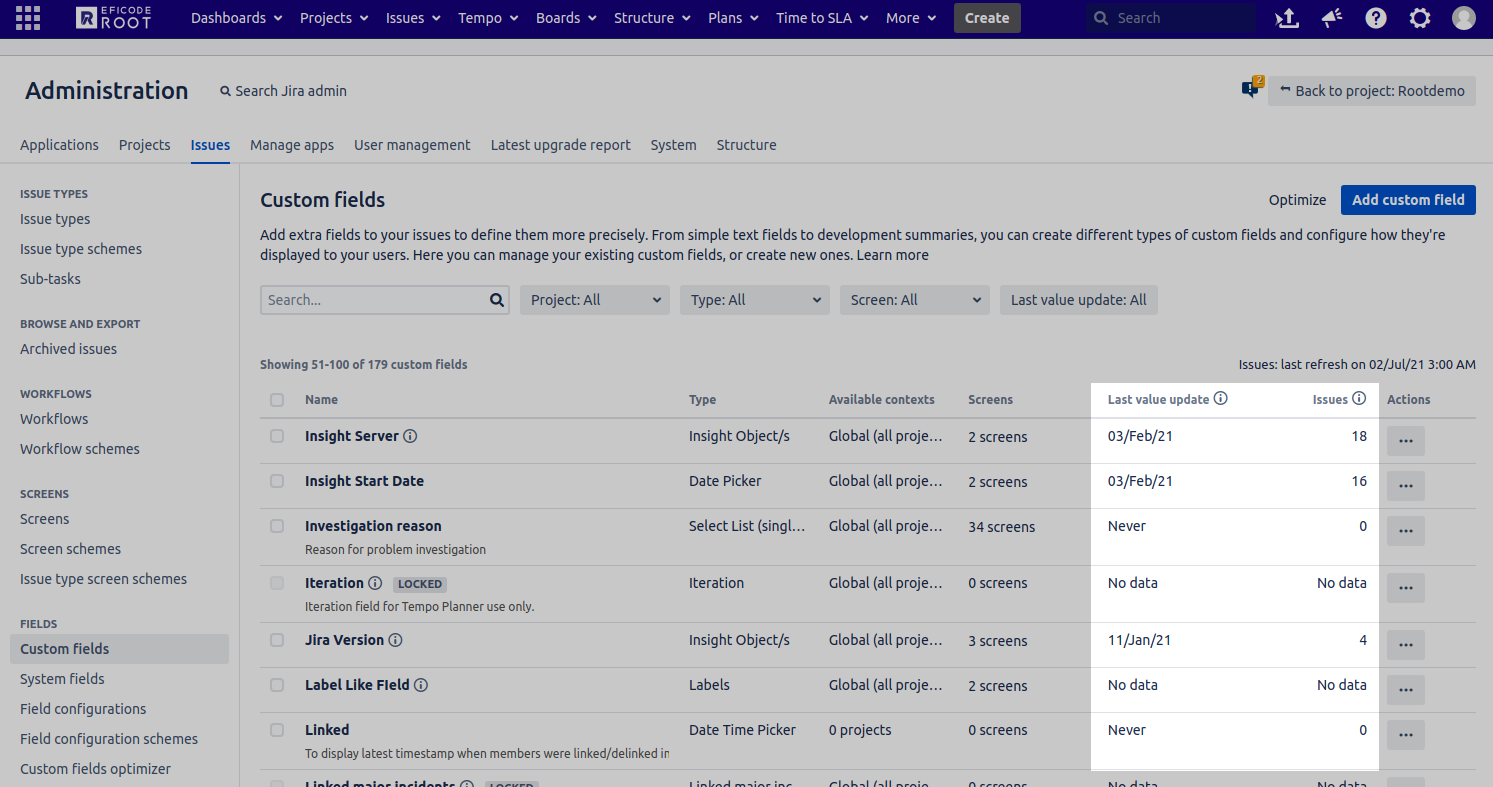 Based on this usage data, you can easily determine whether the custom field is actually needed or not -- and do away with unnecessary clutter by removing the ones that aren't.
Atlassian has also added a way to select and delete multiple custom fields at once, making cleaning up a bit less of a chore than it was before. This may come in particularly handy with the new usage data, which may reveal plenty of unused custom fields that you could delete right away.
Support for multiple identity providers
Jira Data Center only
This release adds support for multiple SAML and OpenID Connect Identity Providers (IdPs). You can now configure more than one IdP and let your users choose the right one for them upon login.
In Jira Service Management, new authentication methods can be enabled or disabled independently for customer portals.
Check out Using multiple identity providers at atlassian.com to learn more about using multiple IdPs.
More accessible commenting
In this release of Jira, Atlassian has improved the keyboard navigation and support of assistive technologies around comments.

The comments area has also been given a slight refresh, making it easier to read and navigate.
Indexing improvements
Jira 8.10 decreased indexing performance in order to provide greater index consistency. The new additional improvements made for index searches and caches bring the performance up to par again. The usual reindexing tasks, like Jira background reindexing or DVCS reindexing are at least 10% faster than in Jira 8.10, while retaining the same level of index consistency.
Indexing request handling has also been improved with the introduction of a new priority queue for user indexing requests. In the earlier versions, background reindexing tasks used a single queue which could overflow if many indexing operations were requested at once. The queue has now been split into two -- the priority queue for handling indexing requests triggered by user activity, and the other for everything else. Thanks to that, user requests should no longer be affected by the background indexing activity.
Keeping your Jira secure
Upgraded components and libraries
In order to keep Jira secure for the foreseeable future, Atlassian is doubling down on their vulnerability management program, focused on finding and fixing security issues in Jira code and components.
For this release of Jira, Atlassian has fixed around 100 vulnerabilities by upgrading different components and third-party libraries to their newest versions or by improving Jira's codebase.
Disabling basic authentication
To secure your Jira even further, you can now disable basic authentication on the login page and in API calls. If you're already using a more secure SSO for authentication, you might want to consider disabling basic authentication completely.
Better Excel Exporter for Jira
Major performance and memory use improvements
Checklist for Jira
Version 5.1 comes with the long-awaited template feature and more!
Create

templates

to import checklist items for recurring tasks.
Import and export checklists in

CSV format

.
Exalate Jira Issue Sync & More
Introduced a new license type - the Freemium license. With this license, you can set up basic synchronization with limited functionality and use it for free.
Insight Discovery
Insight Discovery is now available for no cost for everybody who's using Insight Asset Management with Jira Service Management Data Center or Jira Software Data Center.
SAML Single Sign On for Jira
New User Sync 2.0:
Overhauled user interface for easier configuration
Improved setup for Google Cloud Identity (formerly known as G Suite)
New attribute mapping with presets and transformations for common cases
Groovy transformations for advanced use cases
Linchpin User Profiles integration
Integrated tutorial videos
Experimental support for SCIM 2.0 and custom Groovy driven connectors
Structure for Jira
The new

Group by Attribute

generator replaces the old "Group by Text Attribute" generator. Now it supports formulas that return arrays and items.
Extender performance improvements.
Sprint fields can be updated by Effectors.
Fixed: Tree CustomField compatibility.
Tempo planner
Planner now remembers the latest saved filter or last used filter in Resource Planning, for improved performance and usability.
Zephyr for Jira
Added "Assignee" column for Test Execution Grid in Issue view page.
Artifactory upgrade to 7.19.10
Moving Artifactory from 7.17.9 to 7.19.10 brings about quite a few feature enhancements and bug fixes. The list is lengthy, but to name a few:
Extended Docker OCI support
More flexibility when setting SSH server security
PostgreSQL version 13.0 support
The full list is available for study at your leisure over at jfrog.com:
Artifactory Release Notes - Artifactory 7.19
Bamboo version bump
Atlassian Bamboo gets a minor version update from the current 7.2.2 to version 7.2.4. This update addresses bugs and issues encountered with the current version. A complete list of changes and fixes can be found in Bamboo 7.2 Release Notes at atlassian.com.
Jenkins' monthly treatment
Jenkins core gets an update from the current 2.277.4 LTS to version 2.289.3 LTS along with a bunch of plugin updates.
Please contact your ROOT support for a complete list of plugin updates applicable to your ROOT Jenkins instance.
RTM version bump
RTM gets a minor update from the current 1.7.0 to 1.7.1 version. This is a minor fix release containing UI improvements, several bug fixes (notably Azure AD synchronization's exception handling) and updates for dependencies.
Now would be a great moment to visit our site and check out the complete list of changes: Root Team Management 1.7.1 release
Published: July 14, 2021
Updated: September 1, 2022