Eficode ROOT's release note for October 2022: the new Jira 9, and latest updates from JFrog, Jenkins, GitLab, and GitHub.
The Jira is dead, long live the Jira!
UI changes for issue statuses and transitions
This is most likely going to be the very first thing you notice after the Jira 9 update. O button, where art thou?
Issue statuses and transitions have been moved from separate buttons to a single, easy-to-use Issue status menu.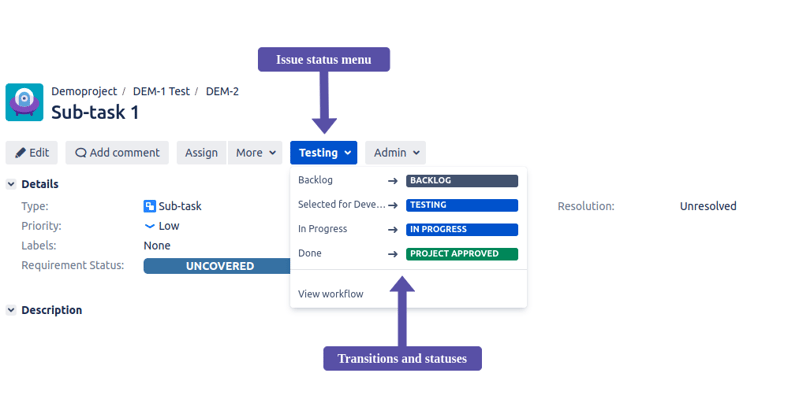 The issue status menu button label indicates the current status of an issue. Inside the status menu, you'll find the set of issue statuses, transitions and current workflow applicable to your issue. Pretty neat, is it not?
Safeguards for heavy bot use
Heavy automation of tasks can sometimes cause slightly too heavy side effects. Safeguards can help in keeping your bots in check by allowing system administrators to moderate a user group's activity with a global limit of items the members of the group can create. For example you can limit the number of comments a bot account can add to an issue.
When Safeguards is enabled with limits set, it'll notify Jira System Administrators when certain thresholds are close to being reached.
Check out the documentation for Safeguards at atlassian.com for more on this feature.
Automation for all
Have you ever wondered what the meaning of all of this, whatever this might be -- life, perhaps – while hacking away with the same old tedious, repetitive nonsense in your Jira project again? A certain uneasiness that kind of comes and goes, maybe for this being not quite the life and career you once envisioned, young and enthusiastic? The "is it just me, or is the whole world a bit… pointless?".
Well, we've got something that could just do the trick for getting a little bit of that life back.
Jira Data Center now ships with Automation for Jira as a native feature. As the name implies, you can use Automation to build, err, automation for your processes and workflows. These automated activities are based on the key concept of automation rules. Rules are made up of three parts: triggers, conditions and actions. A trigger sets the whole thing in motion, conditions refine the rule to apply when appropriate parameters are met, and lastly, action describes the task to perform.
As the feature is now integrated into Jira Data Center, you can get started with it as soon as your Jira on Eficode ROOT has been updated to the October patch level! Automation features are available in both Jira Software and in Jira Service Management.
Learn more about Jira Automation on atlassian.com.
Performance improvements across the board
Making Jira quicker and more efficient has been a bit of a theme with the Jira releases of late, and our dear Jira 9.2 here is no different.
The performance of background task processing has been improved by optimizing the Pretty Simple Message Queue (PSMQ) operations.
The page load times for Jira Backlog and Board agile views have been improved. Jira 9.1 implements two new caches for holding Sprint data readily available with fast cache population, making actions such as opening an Agile board much quicker. Jira 9.2 continues the trend of making Agile faster by optimizing the content associated with these views, removal of polyfills from the frontend, and by decoupling the Agile reports resources from the views.
OAuth 2.0 support for outgoing mail
Jira 8 added the support for OAuth 2.0 for inbound mail, Jira 9 takes it one step further by adding OAuth 2.0 support for outbound mail servers (SMTP) as well. Not only does this provide the means for modern and secure SMTP authentication, but with Microsoft and Google phasing out ye olde password authentication (circa 2nd millennium) in favor of OAuth 2.0 you can keep sending your mails through their services. Like a boss.
Advantageous advancements for Advanced Audit Log
This release of Jira ships with new functionality which allows excluding some events from being recorded without changing the overall log level in advanced audit log. Jira System Administrators can adjust the exclusion settings directly from the Jira Administration UI.
Jira Service Management adds a new audit log for tracking your email channels. With the new logging facility, you can easily make sure that all the incoming mails are processed correctly. The audit log adds a processing log that shows all the messages received from the connected email account, with the possibility of searching and filtering to find specific emails. There's also a connectivity log that tracks the attempts and results of connections to the configured mailboxes.
And then some
Jira 9 is a big release, and there's a lot more to it. Naturally, it's not only about features, the new version also ships with corrections to annoying niggles and problems in the current version. Yes, there's also a fix for the funky behavior of the LDAP directory synchronization.
Take a dive into the Jira Software Release Notes at atlassian.com and Jira Service Management Release Notes at atlassian.com to find all the changes and updates in this release.
News from the ecosystem
These are some of our plugin highlights for this release of Jira on Eficode ROOT but it's just the tip of the iceberg. With the vast amount of plugins in circulation, it would not make sense to cover all of the changes in our limited space here. Please do reach out to your friendly Eficode ROOT Support to find out what's what when it comes to your plugins.
Adaptavist ScriptRunner for Jira
October release of Eficode ROOT bumps ScriptRunner for Jira from 6.x to 7.1.0.
This release includes an awaited update to Groovy 3. The language parser has been reimplemented in Groovy 3, which brings a number of syntax improvements that bring the syntax closer to that of modern Java. There are also additional operators, for example !in and !instanceof, === and !=== for identity comparison and null safe subscript operator, respectively.
But there are also known breaking changes in Groovy 3. Some classes have been relocated to different packages (see the details at groovy-lang.org). And there are some additional breaking changes carried by the Groovy 3 release, for which details can be found on the Release notes for Groovy 3.0 at groovy-lang.org. Be sure to also check out ScriptRunner 7.x Release Notes at adaptavist.com as well.
Checklist for Jira
The checklist for Jira gets a bump to release 6.2.0 with a bunch of improvements, features, and some breaking changes as well:
Templates have received usability improvements: the template list is available in issues and templates and now have owners, users can favorite, and admins can pin templates.
Checklist for Jira can now be integrated with Automation using the checklist changed trigger, checklist condition, and import template action.
The allMandatoryItemsChecked() search function has a breaking change: before this release, the function returned issues where the checklist either had all of its mandatory items checked or contained no mandatory items at all. With this release, the function does not return issues that have 0 mandatory items anymore, only those with 1 or more.
Check out the Checklist for Jira release notes at okapya.atlassian.net for other changes in this release.
Structure - Flexible Jira Project Management
Structure version 8.1.1 delivers the following updates:
New bundled formulas and easier access to the formulas
Calendar support for the Time in Status Column
Project Lead data for project groups
Various updates and fixes
Published: October 4, 2022
Updated: January 9, 2023