Eficode ROOT's September release comes with Bitbucket 8.13, which includes various new features we'll look at below.
Keep signed commits in check
Git commit signing has been a thing for quite some time now, but using this information within the Bitbucket UI could always be more intuitive.
That all changes with this new release of Bitbucket, which introduces a new commit signature status indicator on the Commits page. Not only does it allow you to differentiate signed and unsigned commits, but it also shows if a signed commit has successfully passed the optional signature verification.

There are three possible states for each commit:
The

icon, which indicates the commit, is both signed and verified.
The

icon indicates the commit being signed, but Bitbucket is unable to pass the verification of its signature.
No icon means there is no signature on that particular commit.
2FA for Git over SSH with security keys
This release of Bitbucket introduces support for the ED25519-SK and ECDSA-SK SSH keys designed to work with FIDO2 or U2F hardware authenticators like YubiKey.
Security keys can be used to implement proper multifactor authentication for Git operations, which offers a modern, safer alternative for your typical password or traditional SSH key-based authentication.
Check out the documentation for generating a security key-based SSH key here to learn more about using security keys with Bitbucket.
Manage your licenses
Have you ever seen the long list of users in Bitbucket (synchronized from another directory) and wondered how many contribute to your license's consumed seats?
Bitbucket 8.13 takes away this joy of wondering and pondering by including a new Licensed column on that very list–and it means what it says on the tin (Licensed or not–Yes or no). Some things in this world remain comfortably binary.
It's also possible to filter the userlist based on the license status, providing you convenient access to conduct further scrutiny en masse towards the user accounts in both categories.
Add strictness
The previous Bitbucket release on Eficode ROOT introduced new compliance controls for project permissions, SSH keys, and HTTP access tokens.
This release builds more on top of that foundation, with new controls available for hooks, merge checks, merge strategies, and branch settings to ensure your organization's compliance requirements are met.
Check out the documentation for restricting changes to repository settings here for more information on the available controls.
Let's get down to the brass tacks
Most importantly, this release of Bitbucket also includes a new built-in video player that supports streaming videos within the Bitbucket UI itself.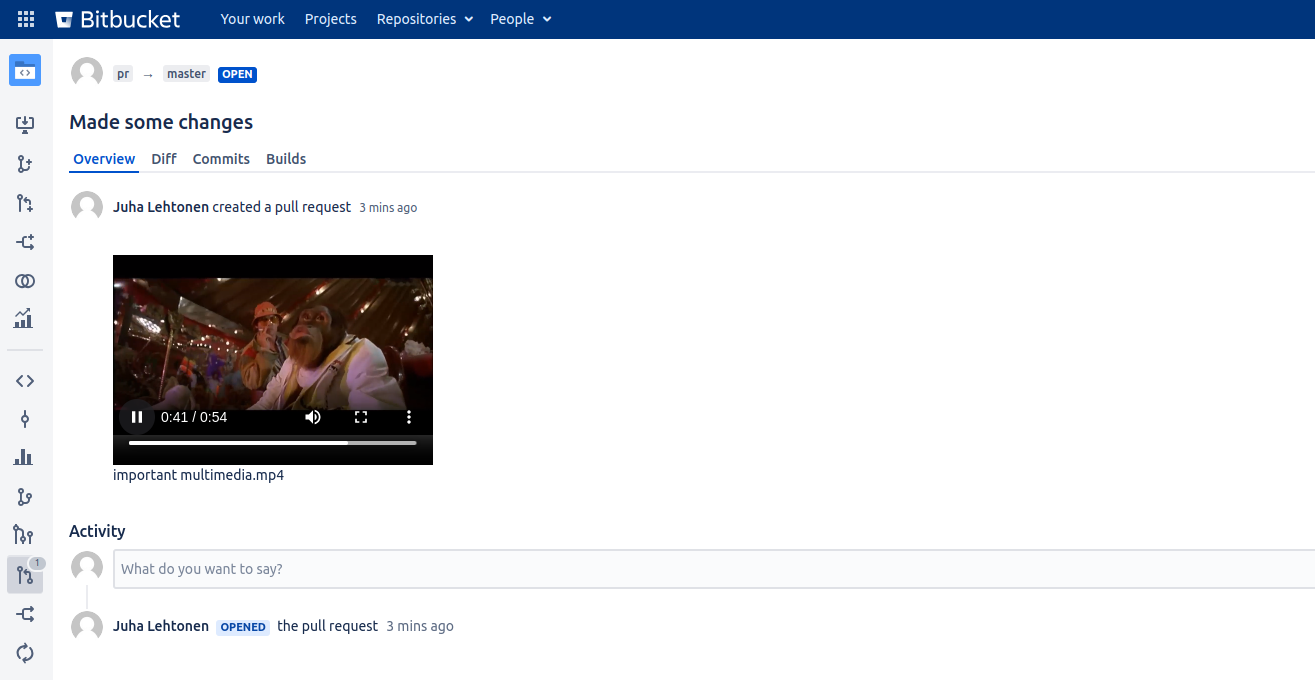 Embedded video in a Pull Request description in Bitbucket 8.13.
Simply add your video in mp4, mov, or webm format as an attachment in your comment and let Bitbucket take care of the rest.
How did we ever manage without this?
What's new in the Bitbucket ecosystem?
In addition to minor fixes and adjustments, some noteworthy updates have also appeared in the Eficode ROOT's Bitbucket App-O-Sphere.
Awesome Graphs for Bitbucket gets a Cycle Time breakdown
In our September version of the Awesome Graphs for Bitbucket app, we are treated with a new capability of displaying a breakdown of the Cycle Time on an individual pull request level.
Using this functionality, you can quickly examine how much time a pull request has spent in each phase of its lifecycle, from Time to Open through Pickup Time and Review Time to the final Time to Resolve.
Full release notes from the vendor can be found on Awesome Graphs for Bitbucket version history here.
Enhancements in security for Bitbucket
Our September release for the app, Security for Bitbucket: Enhanced Secret Scanner by Soteri, delivers some useful enhancements, including:
New Audit Log events for when the Security Hook warns about or blocks any commits and when a scan is triggered.
Line offsets are now shown in push rejection messages.
More precise CSV exports of findings. Exports will now include new columns to locate text more precisely and contain all data required to mark findings reviewed. The enhancements are detailed in the Security Scan Report documentation on soteri.io.
Published: September 6, 2023